ONLINE ABSOLUTE & BANKRUPTCY AUCTION: SEMIS - VEHICLES - TOOLS - SHOP EQUIPMENT (126)
All items closed
Auction Manager
Nate Houser
(423) 605-7511
Due to the holidays, Pick up will start on Wednesday, December 15, 2021 to Friday, December 17, 2021 from 9:00AM to 5:00PM C.T.
On Wednesday and Thursday we will be closed from 12:00PM to 1:00PM C.T. for Lunch
Any item not paid in full by Friday, December 17, the card on file will be charged

« Back to list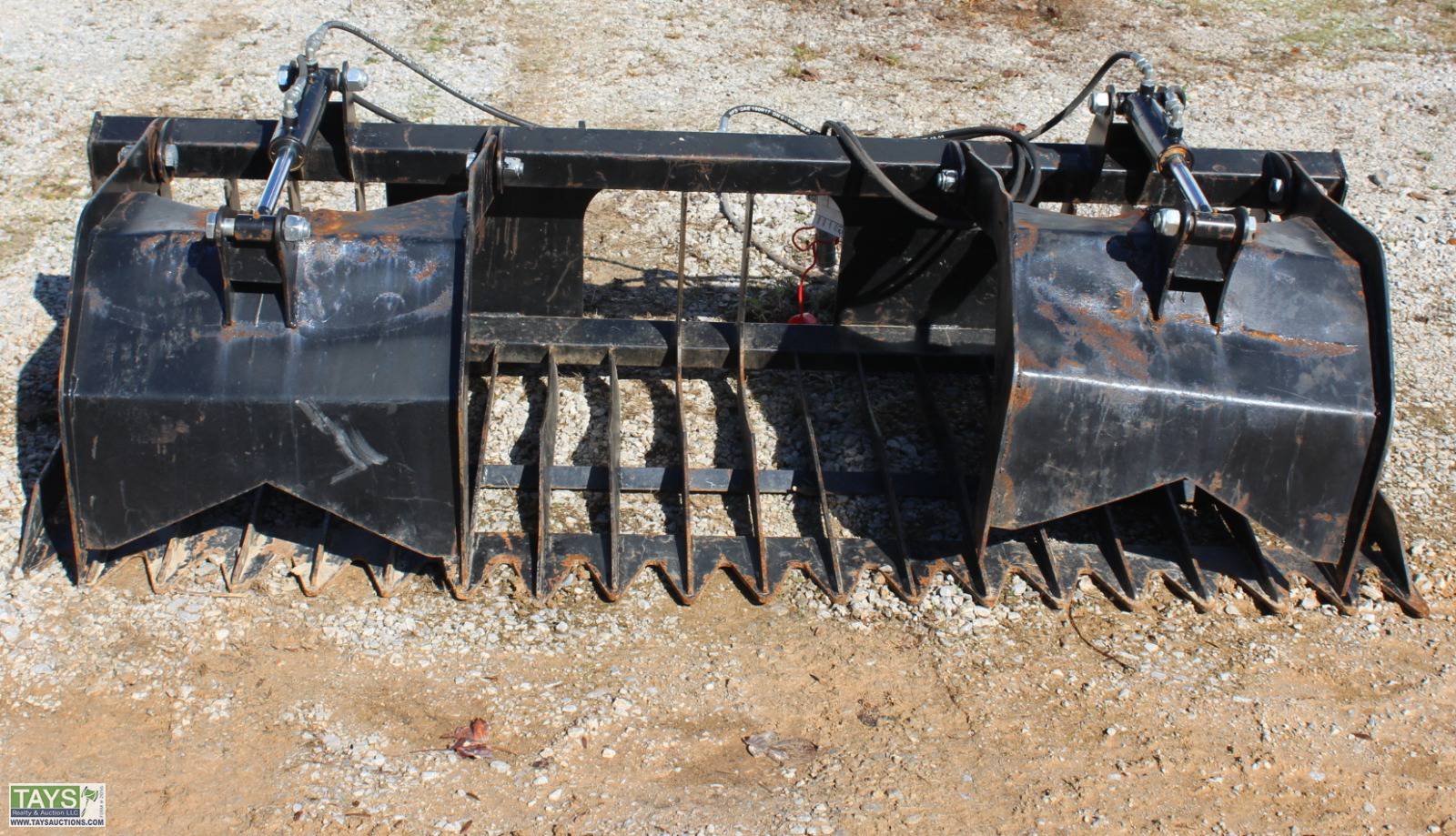 Lot #3:
Skid-steer Grapple Bucket
Bidding is

closed

.
High Bid:
$710.00
NA
Bidding Ended:
Tue, Dec 14 10:09:00 am CT
High Bidder:
9914
Bid Increment:
$25.00
Starting Bid:
$1.00
Item Location:

620 Maxwell St

,

Cookeville

,

TN

38501

Item has been viewed 858 times.
Hydraulic Connections
Two Grapples 
Easy Connect  
Consignor Name:
Joseph Lowe
| | | |
| --- | --- | --- |
| Bid Date | Bid Amount | Bidder |
| Dec 14, 2021 - 10:37:32 AM | $710.00 | i9914 |
| Dec 14, 2021 - 10:37:22 AM | $685.00 | i20260 |
| Dec 14, 2021 - 10:37:22 AM | $660.00 | i9914 |
| Dec 13, 2021 - 7:57:28 PM | $635.00 | i20260 |
| Dec 13, 2021 - 5:30:06 PM | $610.00 | i2981 |
| Dec 12, 2021 - 8:39:55 PM | $585.00 | i18104 |
| Dec 5, 2021 - 9:00:19 PM | $560.00 | i22905 |
| Dec 3, 2021 - 9:14:10 PM | $535.00 | i2981 |
| Dec 3, 2021 - 9:14:09 PM | $510.00 | i22901 |
| Dec 3, 2021 - 9:14:09 PM | $500.00 | i2981 |
| Dec 3, 2021 - 9:14:08 PM | $490.00 | i22901 |
| Dec 3, 2021 - 9:14:08 PM | $480.00 | i2981 |
| Dec 3, 2021 - 9:14:07 PM | $470.00 | i22901 |
| Dec 3, 2021 - 9:14:07 PM | $460.00 | i2981 |
| Dec 3, 2021 - 9:14:06 PM | $450.00 | i22901 |
| Dec 3, 2021 - 9:14:06 PM | $440.00 | i2981 |
| Dec 3, 2021 - 9:14:05 PM | $430.00 | i22901 |
| Dec 3, 2021 - 9:14:05 PM | $420.00 | i2981 |
| Dec 3, 2021 - 9:14:03 PM | $410.00 | i22901 |
| Dec 3, 2021 - 9:14:03 PM | $400.00 | i2981 |
| Dec 3, 2021 - 9:14:02 PM | $390.00 | i22901 |
| Dec 3, 2021 - 9:14:02 PM | $380.00 | i2981 |
| Dec 3, 2021 - 9:14:01 PM | $370.00 | i22901 |
| Dec 3, 2021 - 9:14:01 PM | $360.00 | i2981 |
| Dec 3, 2021 - 9:14:00 PM | $350.00 | i22901 |
| Dec 3, 2021 - 9:14:00 PM | $340.00 | i2981 |
| Dec 3, 2021 - 9:13:59 PM | $330.00 | i22901 |
| Dec 3, 2021 - 9:13:59 PM | $320.00 | i2981 |
| Dec 3, 2021 - 9:13:58 PM | $310.00 | i22901 |
| Dec 3, 2021 - 9:13:58 PM | $300.00 | i2981 |
| Dec 3, 2021 - 9:13:57 PM | $290.00 | i22901 |
| Dec 3, 2021 - 9:13:57 PM | $280.00 | i2981 |
| Dec 3, 2021 - 9:13:55 PM | $270.00 | i22901 |
| Dec 3, 2021 - 9:13:55 PM | $260.00 | i2981 |
| Dec 3, 2021 - 9:13:54 PM | $250.00 | i22901 |
| Dec 3, 2021 - 9:13:54 PM | $240.00 | i2981 |
| Dec 3, 2021 - 9:13:52 PM | $230.00 | i22901 |
| Dec 3, 2021 - 9:13:52 PM | $220.00 | i2981 |
| Dec 3, 2021 - 7:50:51 AM | $210.00 | i22901 |
| Dec 3, 2021 - 7:50:51 AM | $200.00 | i22905 |
| Nov 30, 2021 - 9:17:31 PM | $105.00 | i22905 |
| Nov 30, 2021 - 9:17:31 PM | $100.00 | i18369 |
| Nov 30, 2021 - 9:17:07 PM | $7.00 | i18369 |
| Nov 30, 2021 - 9:17:07 PM | $6.00 | i22905 |
| Nov 30, 2021 - 8:57:42 PM | $5.00 | i18369 |
| Nov 30, 2021 - 8:57:42 PM | $4.00 | i18104 |
| Nov 30, 2021 - 8:57:37 PM | $3.00 | i18369 |
| Nov 30, 2021 - 8:57:37 PM | $2.00 | i18104 |
| Nov 30, 2021 - 6:57:54 PM | $1.00 | i18369 |