ONLINE ABSOLUTE AUCTION: 3 BR / 2 BA HOME & OUTBUILDING ON 56.90 Ac± in 5 TRACTS (6)
All items closed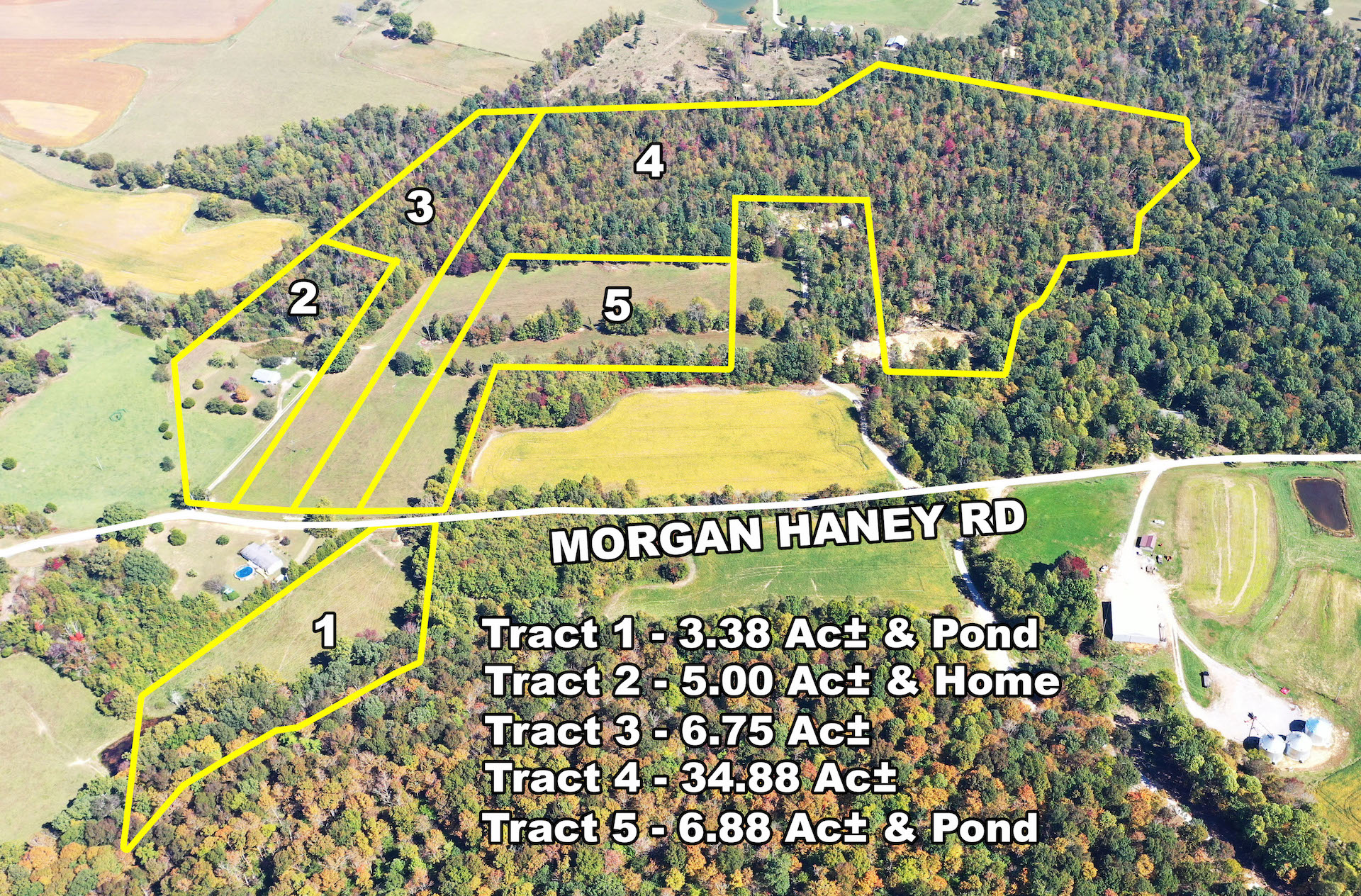 Auction Manager
Sam Tays
(931) 260-8352
« Back to list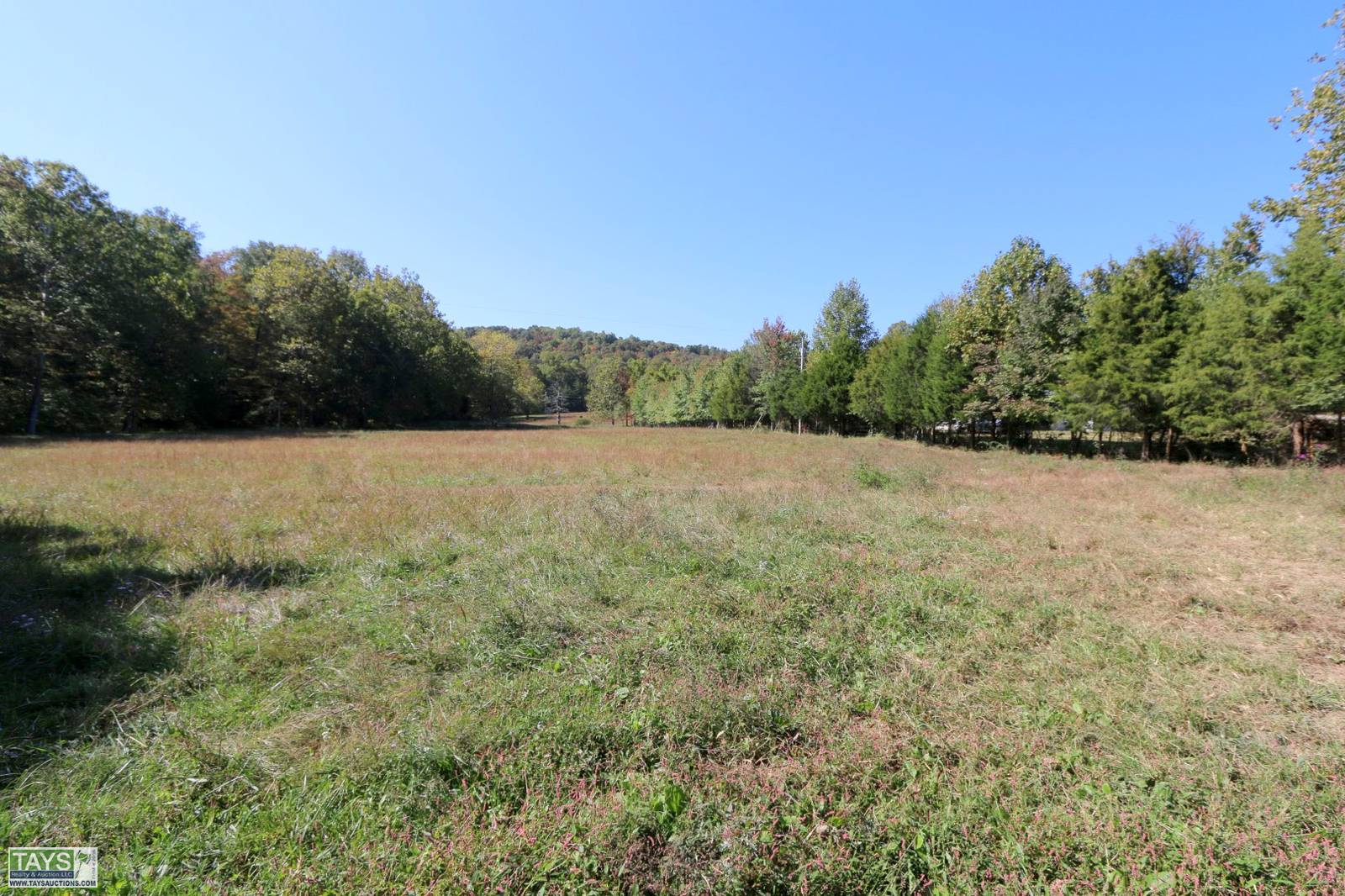 Lot #1:
Tract 1 3.38 Ac± with a Pond
Bidding is

closed

.
High Bid:
$30,099.00
NA
Bidding Ended:
Thu, Nov 5 12:11:31 pm CT
High Bidder:
21758
Bid Increment:
$100.00
Starting Bid:
$1.00
Item Location:

2275 Morgan Haney Rd

,

Cookeville

,

TN

38501

Item has been viewed 1,022 times.
Contact Sam Tays at (931) 260-8352 or samtays@taysauctions.com
Google Earth: A KML and KMZ file in the documents section that includes the property boundary. You will need to already have Google Earth or download Google Earth online.
Once you have downloaded the file, just click the file and it will open Google Earth and take you to the property. Property KML File  Property KMZ File
To download Google Earth, go to https://www.google.com/earth/download/gep/agree.html and click agree to download. After clicking agree to download, the file should be downloading and you will click to open the file and follow the steps to setup Google Earth.
GENERAL INFORMATION
Postal Address: Morgan Haney Rd. Cookeville, TN 38506
County: Putnam
Directions: From the Putnam county courthouse take E Broad St. east for 0.3 miles. Turn left to stay on E Broad St. for 1.8 miles. Continue onto Buck Mountain Rd. for 4.9 miles. Turn right onto Brotherton Mountain Rd. for 2.6 miles. Turn left onto Stamps Shady Grove Rd. for 1.5 miles. Turn left onto Thorn Gap Rd. for 0.6 miles. Turn left onto Morgan Haney Rd. for 0.5 miles and property will be on your left. 
Buyers Premium:  A 10% Buyer's premium will be added to the final bid to determine the contract sales price.
LAND INFORMATION
County Tax ID: A portion of Putnam County Tax Map 023, Group -, Control Map 023, Parcel 001.00.
Lot Size: 3.38  Acres±. See Survey in 'Auction Documents' section.

Restrictions:

Subject to the Restrictive Covenants of the Rose Haney Property. See Restrictions in 'Auction Documents' section.

Easements: Any of record see Survey in 'Auction Documents' section.
Encroachments: Back side of the pond encroaches on neighbors property. S

ee Survey in 'Auction Documents' section.

Mineral Rights: Unknown. An oil, gas, and mineral title search has not been performed on this property.

Additional Info:

 Tract 1 features a pond.
UTILITIES
Electricity: Service is available with Upper Cumberland Electric Membership Corporation call customer service at 931-528-5449 for more information on applicable set-up & deposit fees.
Water: 

Service is available with West Overton Utility District. For more information see Water Availability Letter in 'Auction Documents' section. Call customer service at 931-498-4144 on applicable set-up & deposit fees.

Natural Gas: Service is unavailable. 
Sewer: New owner will be responsible for installing a subsurface septic system. Tract 1 has been approved for installation and duplication of a conventional subsurface sewage disposal system to serve an estimated house size of 3 bedrooms. Tract 1 will require a pump system and interceptor drain. See Septic Restrictions & Tract 1 Survey in 'Auction Documents' section.
TAXES
If tracts 1-5 sell to the same buyer 2020 Property Taxes will be prorated to date of closing. If tracts 1-5 sell to multiple buyers 2020 taxes will be paid by Seller.

Back taxes & Greenbelt rollback taxes (if any) will be paid by the Seller.

2019 Taxes for whole parcel
Consignor Name:
Rose M. Haney
| | | |
| --- | --- | --- |
| Bid Date | Bid Amount | Bidder |
| Nov 5, 2020 - 11:26:52 AM | $30,099.00 | i21758 |
| Nov 5, 2020 - 11:26:52 AM | $30,000.00 | i21931 |
| Nov 5, 2020 - 11:26:24 AM | $29,999.00 | i21931 |
| Nov 5, 2020 - 11:26:24 AM | $29,899.00 | i21758 |
| Nov 5, 2020 - 11:26:02 AM | $29,799.00 | i21931 |
| Nov 5, 2020 - 11:26:02 AM | $29,699.00 | i21758 |
| Nov 5, 2020 - 11:25:43 AM | $29,599.00 | i21931 |
| Nov 5, 2020 - 11:25:43 AM | $29,499.00 | i21758 |
| Nov 5, 2020 - 11:25:23 AM | $29,399.00 | i21931 |
| Nov 5, 2020 - 11:25:23 AM | $29,299.00 | i21758 |
| Nov 5, 2020 - 11:25:02 AM | $29,199.00 | i21931 |
| Nov 5, 2020 - 11:25:02 AM | $29,099.00 | i21758 |
| Nov 5, 2020 - 11:24:36 AM | $28,999.00 | i21931 |
| Nov 5, 2020 - 11:24:36 AM | $28,899.00 | i21758 |
| Nov 5, 2020 - 11:24:09 AM | $28,799.00 | i21931 |
| Nov 5, 2020 - 11:24:09 AM | $28,699.00 | i21758 |
| Nov 5, 2020 - 11:23:47 AM | $28,599.00 | i21931 |
| Nov 5, 2020 - 11:23:47 AM | $28,499.00 | i21758 |
| Nov 5, 2020 - 11:23:08 AM | $28,399.00 | i21931 |
| Nov 5, 2020 - 11:23:08 AM | $28,299.00 | i21758 |
| Nov 5, 2020 - 11:22:26 AM | $28,199.00 | i21931 |
| Nov 5, 2020 - 11:22:26 AM | $28,099.00 | i21758 |
| Nov 5, 2020 - 11:21:53 AM | $27,999.00 | i21931 |
| Nov 5, 2020 - 11:21:53 AM | $27,899.00 | i21758 |
| Nov 5, 2020 - 11:21:31 AM | $27,799.00 | i21931 |
| Nov 5, 2020 - 11:21:31 AM | $27,699.00 | i21758 |
| Nov 5, 2020 - 11:19:08 AM | $27,599.00 | i21931 |
| Nov 5, 2020 - 10:23:30 AM | $27,499.00 | i21758 |
| Nov 5, 2020 - 10:23:07 AM | $27,399.00 | i21931 |
| Nov 5, 2020 - 10:22:37 AM | $27,299.00 | i21758 |
| Nov 5, 2020 - 10:21:51 AM | $27,199.00 | i21931 |
| Nov 5, 2020 - 10:12:10 AM | $27,099.00 | i21758 |
| Nov 5, 2020 - 10:11:10 AM | $26,999.00 | i21931 |
| Nov 5, 2020 - 10:11:10 AM | $26,900.00 | i21758 |
| Nov 5, 2020 - 10:10:55 AM | $26,800.00 | i21931 |
| Nov 5, 2020 - 10:10:55 AM | $26,700.00 | i21758 |
| Nov 5, 2020 - 10:10:41 AM | $26,600.00 | i21931 |
| Nov 5, 2020 - 10:10:41 AM | $26,500.00 | i21758 |
| Nov 5, 2020 - 10:10:26 AM | $26,400.00 | i21931 |
| Nov 5, 2020 - 10:10:26 AM | $26,300.00 | i21758 |
| Nov 5, 2020 - 10:10:04 AM | $26,200.00 | i21931 |
| Nov 5, 2020 - 10:10:04 AM | $26,100.00 | i21758 |
| Nov 5, 2020 - 10:09:12 AM | $26,000.00 | i21931 |
| Nov 5, 2020 - 10:09:12 AM | $25,900.00 | i21758 |
| Nov 5, 2020 - 10:08:36 AM | $25,800.00 | i21931 |
| Nov 5, 2020 - 10:08:36 AM | $25,700.00 | i21758 |
| Nov 5, 2020 - 10:07:33 AM | $25,600.00 | i21931 |
| Nov 5, 2020 - 10:07:33 AM | $25,500.00 | i21758 |
| Nov 5, 2020 - 10:07:01 AM | $25,400.00 | i21931 |
| Nov 5, 2020 - 10:07:01 AM | $25,300.00 | i21758 |
| Nov 5, 2020 - 10:06:32 AM | $25,200.00 | i21931 |
| Nov 5, 2020 - 10:06:32 AM | $25,100.00 | i21758 |
| Nov 5, 2020 - 10:06:09 AM | $25,000.00 | i21931 |
| Nov 5, 2020 - 10:06:09 AM | $24,900.00 | i21758 |
| Nov 5, 2020 - 10:05:42 AM | $24,800.00 | i21931 |
| Nov 5, 2020 - 10:05:42 AM | $24,700.00 | i21758 |
| Nov 5, 2020 - 10:05:20 AM | $24,600.00 | i21931 |
| Nov 5, 2020 - 10:05:20 AM | $24,500.00 | i21758 |
| Nov 5, 2020 - 10:05:00 AM | $24,400.00 | i21931 |
| Nov 5, 2020 - 10:05:00 AM | $24,300.00 | i21758 |
| Nov 5, 2020 - 10:04:40 AM | $24,200.00 | i21931 |
| Nov 5, 2020 - 10:04:40 AM | $24,100.00 | i21758 |
| Nov 5, 2020 - 10:04:08 AM | $24,000.00 | i21931 |
| Nov 5, 2020 - 10:04:08 AM | $23,900.00 | i21758 |
| Nov 5, 2020 - 10:03:54 AM | $23,800.00 | i21931 |
| Nov 5, 2020 - 10:03:54 AM | $23,700.00 | i21758 |
| Nov 5, 2020 - 10:03:33 AM | $23,600.00 | i21931 |
| Nov 5, 2020 - 10:03:33 AM | $23,500.00 | i21758 |
| Nov 5, 2020 - 10:03:14 AM | $23,400.00 | i21931 |
| Nov 5, 2020 - 10:03:14 AM | $23,300.00 | i21758 |
| Nov 5, 2020 - 10:02:55 AM | $23,200.00 | i21931 |
| Nov 5, 2020 - 10:02:55 AM | $23,100.00 | i21758 |
| Nov 5, 2020 - 10:02:25 AM | $23,000.00 | i21931 |
| Nov 5, 2020 - 10:02:25 AM | $22,900.00 | i21758 |
| Nov 5, 2020 - 10:01:59 AM | $22,800.00 | i21931 |
| Nov 5, 2020 - 10:01:59 AM | $22,700.00 | i21758 |
| Nov 5, 2020 - 10:01:37 AM | $22,600.00 | i21931 |
| Nov 5, 2020 - 10:01:37 AM | $22,500.00 | i21758 |
| Nov 5, 2020 - 10:01:17 AM | $22,400.00 | i21931 |
| Nov 5, 2020 - 10:01:17 AM | $22,300.00 | i21758 |
| Nov 5, 2020 - 10:00:50 AM | $22,200.00 | i21931 |
| Nov 5, 2020 - 10:00:50 AM | $22,100.00 | i21906 |
| Nov 5, 2020 - 10:00:24 AM | $21,350.00 | i21931 |
| Nov 5, 2020 - 10:00:24 AM | $21,250.00 | i21758 |
| Nov 5, 2020 - 9:59:45 AM | $21,150.00 | i21931 |
| Nov 5, 2020 - 9:59:45 AM | $21,050.00 | i21758 |
| Nov 5, 2020 - 9:58:21 AM | $20,950.00 | i21931 |
| Nov 5, 2020 - 9:58:21 AM | $20,850.00 | i21758 |
| Nov 5, 2020 - 9:57:46 AM | $20,750.00 | i21931 |
| Nov 5, 2020 - 9:57:46 AM | $20,650.00 | i21758 |
| Nov 5, 2020 - 9:57:03 AM | $20,550.00 | i21931 |
| Nov 5, 2020 - 9:57:03 AM | $20,450.00 | i21758 |
| Nov 5, 2020 - 9:55:47 AM | $20,350.00 | i21931 |
| Nov 5, 2020 - 9:54:59 AM | $20,250.00 | i21758 |
| Nov 5, 2020 - 9:54:16 AM | $20,150.00 | i21931 |
| Nov 5, 2020 - 9:53:34 AM | $20,050.00 | i21758 |
| Nov 5, 2020 - 9:53:34 AM | $20,000.00 | i21931 |
| Nov 5, 2020 - 9:53:07 AM | $19,950.00 | i21931 |
| Nov 5, 2020 - 9:53:07 AM | $19,850.00 | i21758 |
| Nov 5, 2020 - 9:52:31 AM | $19,750.00 | i21931 |
| Nov 5, 2020 - 9:52:31 AM | $19,650.00 | i21758 |
| Nov 5, 2020 - 9:52:10 AM | $19,550.00 | i21931 |
| Nov 5, 2020 - 9:52:10 AM | $19,450.00 | i21758 |
| Nov 5, 2020 - 9:51:51 AM | $19,350.00 | i21931 |
| Nov 5, 2020 - 9:51:51 AM | $19,250.00 | i21758 |
| Nov 5, 2020 - 9:51:29 AM | $19,150.00 | i21931 |
| Nov 5, 2020 - 9:51:29 AM | $19,050.00 | i21758 |
| Nov 5, 2020 - 9:51:03 AM | $18,950.00 | i21931 |
| Nov 5, 2020 - 9:51:03 AM | $18,850.00 | i21758 |
| Nov 5, 2020 - 9:50:36 AM | $18,750.00 | i21931 |
| Nov 5, 2020 - 9:50:36 AM | $18,650.00 | i21758 |
| Nov 5, 2020 - 9:50:08 AM | $18,550.00 | i21931 |
| Nov 5, 2020 - 9:50:08 AM | $18,450.00 | i21758 |
| Nov 5, 2020 - 9:49:41 AM | $18,350.00 | i21931 |
| Nov 5, 2020 - 9:49:41 AM | $18,250.00 | i21758 |
| Nov 5, 2020 - 9:46:27 AM | $18,150.00 | i21931 |
| Nov 5, 2020 - 9:45:29 AM | $18,050.00 | i21758 |
| Nov 5, 2020 - 9:42:38 AM | $17,950.00 | i21931 |
| Nov 5, 2020 - 9:42:38 AM | $17,900.00 | i21906 |
| Nov 5, 2020 - 9:42:34 AM | $17,850.00 | i21906 |
| Nov 5, 2020 - 9:42:34 AM | $17,750.00 | i21931 |
| Nov 5, 2020 - 9:41:50 AM | $17,650.00 | i21906 |
| Nov 5, 2020 - 9:41:41 AM | $17,550.00 | i21758 |
| Nov 5, 2020 - 9:41:20 AM | $17,450.00 | i21931 |
| Nov 5, 2020 - 9:40:25 AM | $17,350.00 | i21758 |
| Nov 5, 2020 - 9:40:04 AM | $17,250.00 | i21931 |
| Nov 5, 2020 - 9:39:43 AM | $17,150.00 | i21758 |
| Nov 5, 2020 - 9:39:00 AM | $17,050.00 | i21931 |
| Nov 5, 2020 - 9:35:48 AM | $16,950.00 | i21758 |
| Nov 5, 2020 - 9:34:54 AM | $16,850.00 | i21931 |
| Nov 5, 2020 - 9:32:18 AM | $16,750.00 | i21758 |
| Nov 5, 2020 - 9:30:14 AM | $16,650.00 | i21931 |
| Nov 5, 2020 - 9:30:06 AM | $16,550.00 | i21758 |
| Nov 5, 2020 - 9:28:49 AM | $16,450.00 | i21931 |
| Nov 5, 2020 - 9:00:17 AM | $16,350.00 | i21758 |
| Nov 5, 2020 - 8:59:57 AM | $16,250.00 | i21899 |
| Nov 5, 2020 - 8:59:58 AM | $16,250.00 | i21758 |
| Nov 5, 2020 - 8:59:40 AM | $16,150.00 | i21899 |
| Nov 5, 2020 - 8:59:40 AM | $16,050.00 | i21758 |
| Nov 5, 2020 - 8:59:18 AM | $15,950.00 | i21899 |
| Nov 5, 2020 - 8:59:18 AM | $15,850.00 | i21758 |
| Nov 5, 2020 - 8:58:50 AM | $15,750.00 | i21899 |
| Nov 5, 2020 - 8:58:50 AM | $15,650.00 | i21758 |
| Nov 5, 2020 - 8:58:28 AM | $15,550.00 | i21899 |
| Nov 5, 2020 - 8:58:28 AM | $15,450.00 | i21758 |
| Nov 5, 2020 - 8:54:11 AM | $15,350.00 | i21899 |
| Nov 5, 2020 - 8:52:09 AM | $15,250.00 | i21758 |
| Nov 5, 2020 - 8:51:49 AM | $15,150.00 | i21899 |
| Nov 5, 2020 - 8:51:50 AM | $15,150.00 | i21758 |
| Nov 5, 2020 - 8:51:26 AM | $15,050.00 | i21899 |
| Nov 5, 2020 - 8:51:26 AM | $14,950.00 | i21758 |
| Nov 5, 2020 - 8:50:57 AM | $14,850.00 | i21899 |
| Nov 5, 2020 - 8:50:57 AM | $14,750.00 | i21758 |
| Nov 5, 2020 - 8:50:19 AM | $14,650.00 | i21899 |
| Nov 5, 2020 - 8:50:19 AM | $14,550.00 | i21758 |
| Nov 5, 2020 - 8:49:38 AM | $14,450.00 | i21899 |
| Nov 5, 2020 - 8:49:38 AM | $14,350.00 | i21758 |
| Nov 5, 2020 - 8:49:11 AM | $14,250.00 | i21899 |
| Nov 5, 2020 - 8:49:11 AM | $14,150.00 | i21758 |
| Nov 5, 2020 - 8:48:23 AM | $14,050.00 | i21899 |
| Nov 5, 2020 - 8:48:23 AM | $13,950.00 | i21758 |
| Nov 5, 2020 - 8:47:57 AM | $13,850.00 | i21899 |
| Nov 5, 2020 - 8:47:57 AM | $13,750.00 | i21758 |
| Nov 5, 2020 - 8:47:39 AM | $13,650.00 | i21899 |
| Nov 5, 2020 - 8:47:39 AM | $13,550.00 | i21758 |
| Nov 5, 2020 - 8:47:24 AM | $13,450.00 | i21899 |
| Nov 5, 2020 - 8:47:24 AM | $13,350.00 | i21758 |
| Nov 5, 2020 - 8:47:03 AM | $13,250.00 | i21899 |
| Nov 5, 2020 - 8:47:03 AM | $13,150.00 | i21758 |
| Nov 5, 2020 - 8:46:49 AM | $13,050.00 | i21899 |
| Nov 5, 2020 - 8:46:49 AM | $12,950.00 | i21758 |
| Nov 5, 2020 - 8:46:32 AM | $12,850.00 | i21899 |
| Nov 5, 2020 - 8:46:32 AM | $12,750.00 | i21758 |
| Nov 5, 2020 - 8:46:17 AM | $12,650.00 | i21899 |
| Nov 5, 2020 - 8:46:17 AM | $12,550.00 | i21758 |
| Nov 5, 2020 - 8:45:48 AM | $12,450.00 | i21899 |
| Nov 5, 2020 - 8:45:48 AM | $12,350.00 | i21758 |
| Nov 5, 2020 - 8:45:25 AM | $12,250.00 | i21899 |
| Nov 5, 2020 - 8:45:25 AM | $12,150.00 | i21758 |
| Nov 5, 2020 - 8:45:03 AM | $12,050.00 | i21899 |
| Nov 5, 2020 - 8:45:03 AM | $11,950.00 | i21758 |
| Nov 5, 2020 - 8:44:43 AM | $11,850.00 | i21899 |
| Nov 5, 2020 - 8:44:43 AM | $11,750.00 | i21758 |
| Nov 5, 2020 - 8:44:29 AM | $11,650.00 | i21899 |
| Nov 5, 2020 - 8:44:29 AM | $11,550.00 | i21758 |
| Nov 5, 2020 - 8:43:59 AM | $11,450.00 | i21899 |
| Nov 5, 2020 - 8:43:59 AM | $11,350.00 | i21758 |
| Nov 5, 2020 - 8:43:33 AM | $11,250.00 | i21899 |
| Nov 5, 2020 - 8:43:33 AM | $11,150.00 | i21758 |
| Nov 5, 2020 - 8:43:04 AM | $11,050.00 | i21899 |
| Nov 5, 2020 - 8:43:04 AM | $10,950.00 | i21758 |
| Nov 5, 2020 - 8:42:31 AM | $10,850.00 | i21899 |
| Nov 5, 2020 - 8:42:31 AM | $10,750.00 | i21758 |
| Nov 5, 2020 - 8:42:00 AM | $10,650.00 | i21899 |
| Nov 5, 2020 - 8:42:00 AM | $10,550.00 | i21758 |
| Nov 5, 2020 - 8:41:24 AM | $10,450.00 | i21899 |
| Nov 5, 2020 - 8:41:24 AM | $10,350.00 | i21758 |
| Nov 5, 2020 - 8:40:18 AM | $10,250.00 | i21899 |
| Nov 5, 2020 - 8:40:18 AM | $10,150.00 | i21758 |
| Nov 5, 2020 - 8:39:45 AM | $10,050.00 | i21899 |
| Nov 5, 2020 - 8:39:45 AM | $10,000.00 | i21758 |
| Nov 5, 2020 - 8:37:44 AM | $9,950.00 | i21899 |
| Nov 5, 2020 - 8:37:44 AM | $9,900.00 | i21758 |
| Nov 5, 2020 - 8:37:22 AM | $9,850.00 | i21899 |
| Nov 5, 2020 - 8:37:22 AM | $9,800.00 | i21758 |
| Nov 5, 2020 - 8:36:36 AM | $9,750.00 | i21899 |
| Nov 5, 2020 - 8:36:36 AM | $9,700.00 | i21758 |
| Nov 5, 2020 - 8:36:07 AM | $9,650.00 | i21899 |
| Nov 5, 2020 - 8:36:07 AM | $9,600.00 | i21758 |
| Nov 5, 2020 - 8:30:29 AM | $9,550.00 | i21899 |
| Nov 5, 2020 - 8:03:49 AM | $9,500.00 | i21758 |
| Nov 5, 2020 - 8:03:23 AM | $9,450.00 | i21921 |
| Nov 5, 2020 - 8:03:24 AM | $9,450.00 | i21758 |
| Nov 5, 2020 - 8:02:00 AM | $9,400.00 | i21921 |
| Nov 5, 2020 - 8:02:00 AM | $9,350.00 | i21758 |
| Nov 5, 2020 - 8:00:51 AM | $9,300.00 | i21921 |
| Nov 5, 2020 - 8:00:51 AM | $9,250.00 | i21758 |
| Nov 5, 2020 - 7:58:18 AM | $9,200.00 | i21921 |
| Nov 5, 2020 - 7:58:18 AM | $9,150.00 | i21758 |
| Nov 5, 2020 - 7:54:32 AM | $9,100.00 | i21921 |
| Nov 5, 2020 - 7:42:30 AM | $9,050.00 | i21758 |
| Nov 5, 2020 - 7:27:23 AM | $9,000.00 | i16958 |
| Nov 5, 2020 - 7:27:24 AM | $9,000.00 | i21758 |
| Nov 5, 2020 - 7:27:02 AM | $8,950.00 | i16958 |
| Nov 5, 2020 - 7:27:02 AM | $8,900.00 | i21758 |
| Nov 5, 2020 - 7:26:37 AM | $8,850.00 | i16958 |
| Nov 5, 2020 - 7:26:37 AM | $8,800.00 | i21758 |
| Nov 5, 2020 - 7:25:08 AM | $8,750.00 | i16958 |
| Nov 5, 2020 - 7:25:08 AM | $8,700.00 | i21758 |
| Nov 5, 2020 - 7:24:48 AM | $8,650.00 | i16958 |
| Nov 5, 2020 - 7:24:48 AM | $8,600.00 | i21758 |
| Nov 5, 2020 - 7:23:56 AM | $8,550.00 | i16958 |
| Nov 5, 2020 - 7:23:56 AM | $8,500.00 | i21758 |
| Nov 5, 2020 - 7:23:36 AM | $8,450.00 | i16958 |
| Nov 5, 2020 - 7:23:36 AM | $8,400.00 | i21758 |
| Nov 5, 2020 - 7:23:14 AM | $8,350.00 | i16958 |
| Nov 5, 2020 - 7:23:14 AM | $8,300.00 | i21758 |
| Nov 5, 2020 - 6:27:34 AM | $8,250.00 | i16958 |
| Nov 5, 2020 - 6:27:34 AM | $8,200.00 | i21758 |
| Nov 5, 2020 - 5:39:19 AM | $8,150.00 | i16958 |
| Nov 5, 2020 - 5:28:30 AM | $8,100.00 | i21758 |
| Nov 4, 2020 - 10:53:08 PM | $8,050.00 | i21671 |
| Nov 4, 2020 - 10:50:56 PM | $8,000.00 | i16958 |
| Nov 4, 2020 - 10:50:57 PM | $8,000.00 | i21671 |
| Nov 4, 2020 - 10:49:18 PM | $7,700.00 | i16958 |
| Nov 4, 2020 - 10:49:18 PM | $7,650.00 | i21671 |
| Nov 4, 2020 - 10:48:21 PM | $7,600.00 | i16958 |
| Nov 4, 2020 - 10:48:21 PM | $7,550.00 | i21671 |
| Nov 4, 2020 - 10:47:49 PM | $7,500.00 | i16958 |
| Nov 4, 2020 - 10:47:49 PM | $7,450.00 | i21671 |
| Nov 4, 2020 - 10:47:35 PM | $7,400.00 | i16958 |
| Nov 4, 2020 - 10:47:35 PM | $7,350.00 | i21671 |
| Nov 4, 2020 - 10:46:50 PM | $7,300.00 | i16958 |
| Nov 4, 2020 - 10:46:50 PM | $7,250.00 | i21671 |
| Nov 4, 2020 - 10:46:12 PM | $7,200.00 | i16958 |
| Nov 4, 2020 - 10:46:12 PM | $7,150.00 | i21671 |
| Nov 4, 2020 - 9:28:58 PM | $7,100.00 | i16958 |
| Nov 4, 2020 - 9:28:58 PM | $7,050.50 | i21758 |
| Nov 4, 2020 - 9:16:33 PM | $7,050.00 | i21758 |
| Nov 4, 2020 - 9:15:46 PM | $7,000.00 | i16958 |
| Nov 4, 2020 - 9:15:46 PM | $6,950.00 | i21758 |
| Nov 4, 2020 - 9:15:05 PM | $6,900.00 | i16958 |
| Nov 4, 2020 - 9:15:05 PM | $6,850.00 | i21758 |
| Nov 4, 2020 - 9:14:37 PM | $6,800.00 | i16958 |
| Nov 4, 2020 - 9:14:37 PM | $6,750.00 | i21758 |
| Nov 4, 2020 - 9:13:55 PM | $6,700.00 | i16958 |
| Nov 4, 2020 - 9:13:55 PM | $6,650.00 | i21758 |
| Nov 4, 2020 - 8:53:02 PM | $6,600.00 | i16958 |
| Nov 4, 2020 - 8:06:07 PM | $6,550.00 | i21758 |
| Nov 4, 2020 - 8:05:11 PM | $6,500.00 | i16958 |
| Nov 4, 2020 - 8:05:11 PM | $6,450.00 | i21758 |
| Nov 4, 2020 - 6:43:49 PM | $6,400.00 | i16958 |
| Nov 4, 2020 - 6:43:49 PM | $6,350.00 | i21921 |
| Nov 4, 2020 - 3:46:43 PM | $6,150.00 | i16958 |
| Nov 4, 2020 - 3:46:43 PM | $6,100.00 | i21899 |
| Nov 4, 2020 - 3:46:24 PM | $6,050.00 | i21899 |
| Nov 4, 2020 - 3:46:24 PM | $6,000.00 | i16958 |
| Nov 4, 2020 - 3:46:04 PM | $5,700.00 | i21899 |
| Nov 4, 2020 - 3:46:04 PM | $5,650.00 | i16958 |
| Nov 4, 2020 - 2:53:10 PM | $5,600.00 | i21899 |
| Nov 3, 2020 - 9:27:06 PM | $5,550.00 | i21758 |
| Nov 3, 2020 - 9:26:35 PM | $5,500.00 | i21909 |
| Nov 3, 2020 - 9:26:36 PM | $5,500.00 | i21758 |
| Nov 3, 2020 - 9:25:58 PM | $5,450.00 | i21909 |
| Nov 3, 2020 - 9:25:58 PM | $5,400.00 | i21758 |
| Nov 3, 2020 - 9:25:30 PM | $5,350.00 | i21909 |
| Nov 3, 2020 - 9:25:30 PM | $5,300.00 | i21758 |
| Nov 3, 2020 - 9:24:47 PM | $5,250.00 | i21909 |
| Nov 3, 2020 - 9:24:47 PM | $5,200.00 | i21758 |
| Nov 3, 2020 - 9:20:48 PM | $5,150.00 | i21909 |
| Nov 3, 2020 - 9:20:48 PM | $5,100.00 | i21758 |
| Nov 3, 2020 - 9:11:57 PM | $5,050.00 | i21909 |
| Nov 3, 2020 - 9:11:57 PM | $5,000.00 | i21758 |
| Nov 3, 2020 - 6:20:08 PM | $4,950.00 | i21909 |
| Nov 3, 2020 - 6:20:08 PM | $4,900.00 | i18555 |
| Nov 3, 2020 - 5:54:14 PM | $4,850.00 | i18555 |
| Nov 3, 2020 - 5:53:47 PM | $4,800.00 | i21899 |
| Nov 3, 2020 - 5:53:48 PM | $4,800.00 | i18555 |
| Nov 3, 2020 - 5:53:26 PM | $4,700.00 | i21899 |
| Nov 3, 2020 - 5:53:26 PM | $4,650.00 | i18555 |
| Nov 3, 2020 - 5:53:08 PM | $4,550.00 | i21899 |
| Nov 3, 2020 - 5:53:08 PM | $4,500.00 | i18555 |
| Nov 3, 2020 - 3:11:40 PM | $4,450.00 | i21899 |
| Nov 3, 2020 - 3:11:40 PM | $4,400.00 | i21758 |
| Nov 2, 2020 - 9:55:04 AM | $4,350.00 | i21899 |
| Nov 1, 2020 - 2:19:51 PM | $4,300.00 | i21758 |
| Nov 1, 2020 - 7:52:57 AM | $4,250.00 | i7515 |
| Oct 29, 2020 - 12:41:54 PM | $4,200.00 | i21794 |
| Oct 27, 2020 - 7:39:58 AM | $4,150.00 | i21758 |
| Oct 25, 2020 - 3:00:25 PM | $4,100.00 | i21053 |
| Oct 25, 2020 - 2:36:13 PM | $4,050.00 | i16457 |
| Oct 21, 2020 - 11:37:23 AM | $4,000.00 | i21053 |
| Oct 21, 2020 - 11:37:20 AM | $3,950.00 | i2678 |
| Oct 21, 2020 - 11:37:21 AM | $3,950.00 | i21053 |
| Oct 20, 2020 - 5:27:11 AM | $3,900.00 | i2678 |
| Oct 20, 2020 - 5:27:11 AM | $3,850.00 | i21774 |
| Oct 19, 2020 - 1:10:06 PM | $3,800.00 | i2678 |
| Oct 19, 2020 - 1:10:06 PM | $3,750.00 | i20517 |
| Oct 19, 2020 - 1:09:09 PM | $3,550.00 | i2678 |
| Oct 19, 2020 - 1:09:09 PM | $3,500.00 | i20517 |
| Oct 18, 2020 - 1:37:23 PM | $2,650.01 | i2678 |
| Oct 18, 2020 - 1:37:23 PM | $2,600.01 | i20517 |
| Oct 18, 2020 - 1:37:16 PM | $2,550.01 | i2678 |
| Oct 18, 2020 - 1:37:16 PM | $2,500.01 | i20517 |
| Oct 18, 2020 - 1:36:59 PM | $2,150.00 | i2678 |
| Oct 18, 2020 - 1:36:59 PM | $2,100.00 | i20517 |
| Oct 15, 2020 - 10:24:55 PM | $2,050.00 | i2678 |
| Oct 15, 2020 - 10:24:55 PM | $2,000.00 | i19344 |
| Oct 14, 2020 - 9:44:52 AM | $575.00 | i19344 |
| Oct 14, 2020 - 9:44:52 AM | $550.00 | i20517 |
| Oct 14, 2020 - 9:44:33 AM | $260.00 | i19344 |
| Oct 14, 2020 - 9:44:33 AM | $250.00 | i20517 |
| Oct 14, 2020 - 9:44:25 AM | $8.00 | i19344 |
| Oct 14, 2020 - 9:44:25 AM | $7.00 | i20517 |
| Oct 14, 2020 - 8:28:32 AM | $6.00 | i19344 |
| Oct 14, 2020 - 2:39:09 AM | $5.00 | i20151 |
| Oct 13, 2020 - 7:13:33 PM | $4.00 | i21742 |
| Oct 13, 2020 - 4:55:18 PM | $3.00 | i21053 |
| Oct 13, 2020 - 3:23:23 PM | $2.00 | i21742 |
| Oct 13, 2020 - 11:50:59 AM | $1.00 | i21053 |