ONLINE ABSOLUTE AUCTION: 505 Ac± in 5 TRACTS (5)
All items closed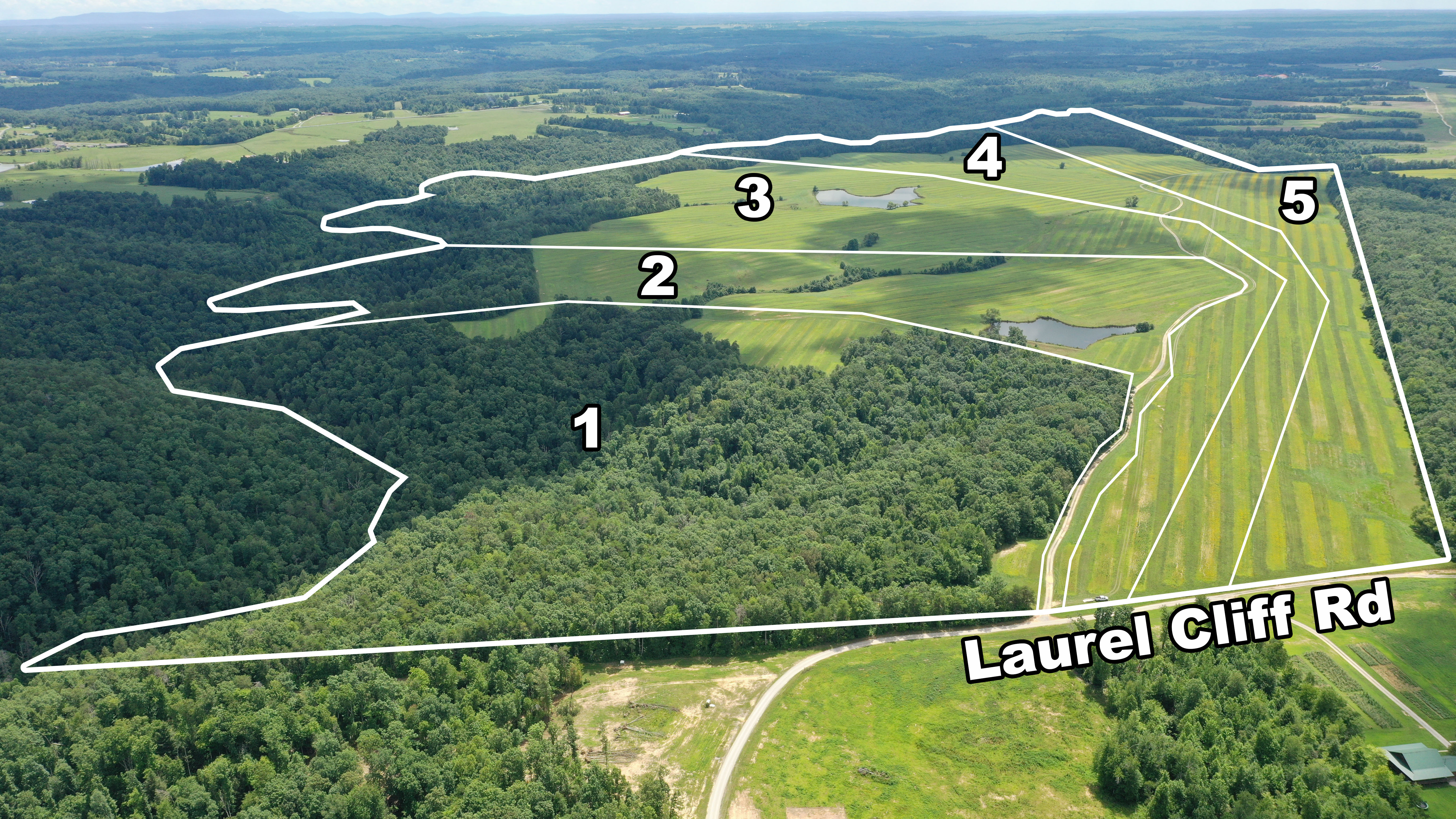 This property features:
Crop Land / Farm & Ranch / Recreational Property / Homesites
♦ 81 Ac± to 161 Ac± Unrestricted Tracts
♦ Mostly Level to Gently Rolling with Panoramic & Bluff Views
♦ 2 Mi.± of Hurricane Creek Frontage, 2 Large Ponds & Abundant Wildlife
♦ Near Catoosa WMA, Big South Fork, Monterey & Crossville
♦ Centrally Located Between Nashville & Knoxville...13½ Mi. from I-40
Auction Manager
Sam Tays
(931) 260-8352
« Back to list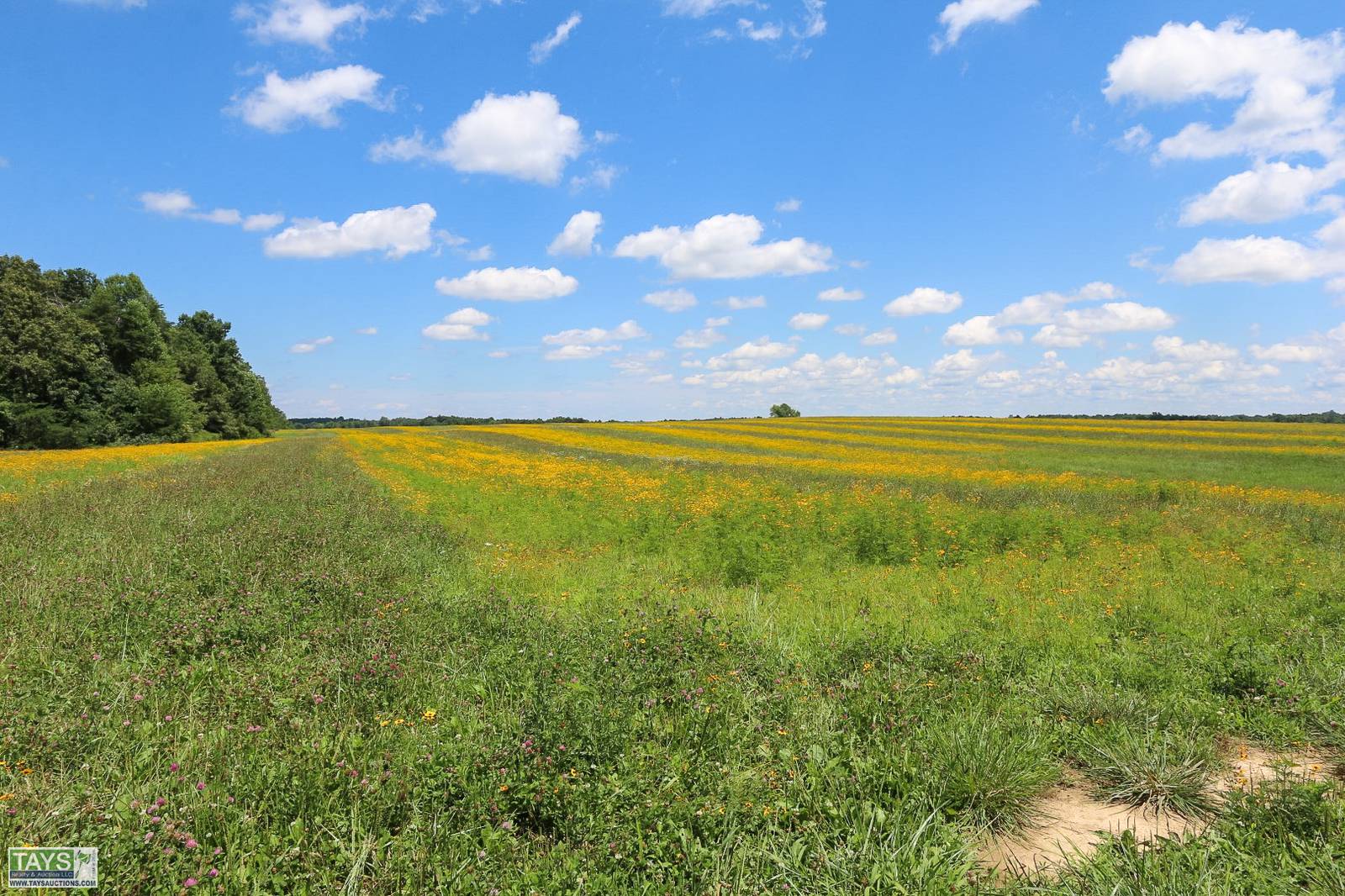 Lot #0005:
Tract 5 91.25 Ac±
Bidding is

closed

.
High Bid:
$281,550.00
NA
Bidding Ended:
Tue, Oct 6 11:25:13 am CT
High Bidder:
21651
Bid Increment:
$100.00
Starting Bid:
$1.00
Item Location:

Laurel Cliff Rd

,

Clarkrange

,

TN

Item has been viewed 1,527 times.
Contact Sam Tays at (931) 260-8352 or samtays@taysauctions.com
Google Earth: A KML and KMZ file in the documents section that includes the property boundary. You will need to already have Google Earth or download Google Earth online.
Once you have downloaded the file, just click the file and it will open Google Earth and take you to the property. Property KML File  Property KMZ File
To download Google Earth, go to https://www.google.com/earth/download/gep/agree.html and click agree to download. After clicking agree to download, the file should be downloading and you will click to open the file and follow the steps to setup Google Earth.
GENERAL INFORMATION
Postal Address: Laurel Cliff Rd. Clarkrange, TN 38553
County: Fentress
Directions: From I-40 take exit 301 toward US-70N W. Turn north onto US-70N W for 0.1 miles. Turn right onto Industrial Dr. for 0.2 miles. Turn left onto Crossville St. for 0.3 miles. Turn right onto TN-62 E/E Commercial Ave. for 7.2 miles. Turn left onto Muddy Pond Rd. for 3.5 miles. Turn right onto Union B for 3.5 miles. Continue onto Shaver Rd. for 0.2 miles. Take a sharp right turn onto Laurel Cliff Rd. for 0.6 miles and continue straight for 0.3 miles and the property will be on your left.
Buyers Premium: A 10% Buyer's premium will be added to the final bid to determine the contract sales price.
LAND INFORMATION
County Tax ID: A portion of Fentress County Tax Map 153, Group -, Control Map 153, Parcel 001.01.
Lot Size: 91.25 Acres±. See Survey in 'Auction Documents' section.
Easements: Subject to a 30' Access & Utility Easement.

 See Survey in 'Auction Documents' section.

Encroachments: Any of record see Survey in 'Auction Documents' section.
Mineral Rights: Mineral rights do not sell with this property.
UTILITIES
Electricity: 

Service is available with Volunteer Energy Co-Op. Call customer service at 931-879-5853 for more information on applicable set-up & deposit fees.

Water: Utility district service is currently unavailable.
Natural Gas: Service is unavailable.
Sewer: Service is unavailable. New owner will be responsible for installing a subsurface septic system.
TAXES
If tracts 1-5 sell to the same buyer 2020 Property Taxes will be prorated to date of closing. If tracts 1-5 sell to multiple buyers 2020 taxes will be paid by Seller.

Back taxes & Greenbelt rollback taxes (if any) will be paid by the Seller.

2019 Taxes for whole parcel
Consignor Name:
Christopher & Patricia Hughes
| | | |
| --- | --- | --- |
| Bid Date | Bid Amount | Bidder |
| Oct 6, 2020 - 10:20:13 AM | $281,550.00 | i21651 |
| Oct 6, 2020 - 10:20:01 AM | $281,450.00 | i9097 |
| Oct 6, 2020 - 10:15:07 AM | $281,350.00 | i21651 |
| Oct 6, 2020 - 10:12:41 AM | $281,250.00 | i9097 |
| Oct 6, 2020 - 9:37:29 AM | $281,150.00 | i21651 |
| Oct 6, 2020 - 9:37:25 AM | $281,050.00 | i9097 |
| Oct 6, 2020 - 9:37:25 AM | $281,000.00 | i21651 |
| Oct 6, 2020 - 9:37:22 AM | $280,900.00 | i9097 |
| Oct 6, 2020 - 9:37:22 AM | $280,800.00 | i21651 |
| Oct 6, 2020 - 9:37:19 AM | $280,700.00 | i9097 |
| Oct 6, 2020 - 9:37:19 AM | $280,600.00 | i21651 |
| Oct 6, 2020 - 9:37:17 AM | $280,500.00 | i9097 |
| Oct 6, 2020 - 9:37:17 AM | $280,400.00 | i21651 |
| Oct 6, 2020 - 9:37:14 AM | $280,300.00 | i9097 |
| Oct 6, 2020 - 9:37:14 AM | $280,200.00 | i21651 |
| Oct 6, 2020 - 9:37:09 AM | $280,100.00 | i9097 |
| Oct 6, 2020 - 9:37:09 AM | $280,000.00 | i21651 |
| Oct 6, 2020 - 9:37:04 AM | $279,900.00 | i9097 |
| Oct 6, 2020 - 9:37:04 AM | $279,800.00 | i21651 |
| Oct 6, 2020 - 9:36:57 AM | $279,700.00 | i9097 |
| Oct 6, 2020 - 9:36:57 AM | $279,600.00 | i21651 |
| Oct 6, 2020 - 9:36:54 AM | $279,500.00 | i9097 |
| Oct 6, 2020 - 9:36:54 AM | $279,400.00 | i21651 |
| Oct 6, 2020 - 9:36:51 AM | $279,300.00 | i9097 |
| Oct 6, 2020 - 9:36:51 AM | $279,200.00 | i21651 |
| Oct 6, 2020 - 9:36:37 AM | $279,100.00 | i9097 |
| Oct 6, 2020 - 9:36:37 AM | $279,000.00 | i21651 |
| Oct 6, 2020 - 9:36:33 AM | $278,900.00 | i9097 |
| Oct 6, 2020 - 9:36:33 AM | $278,800.00 | i21651 |
| Oct 6, 2020 - 9:36:29 AM | $278,700.00 | i9097 |
| Oct 6, 2020 - 9:36:29 AM | $278,600.00 | i21651 |
| Oct 6, 2020 - 9:36:25 AM | $278,500.00 | i9097 |
| Oct 6, 2020 - 9:36:25 AM | $278,400.00 | i21651 |
| Oct 6, 2020 - 9:36:21 AM | $278,300.00 | i9097 |
| Oct 6, 2020 - 9:36:21 AM | $278,200.00 | i21651 |
| Oct 6, 2020 - 9:36:19 AM | $278,100.00 | i9097 |
| Oct 6, 2020 - 9:36:19 AM | $278,000.00 | i21651 |
| Oct 6, 2020 - 9:36:16 AM | $277,900.00 | i9097 |
| Oct 6, 2020 - 9:36:16 AM | $277,800.00 | i21651 |
| Oct 6, 2020 - 9:36:11 AM | $277,700.00 | i9097 |
| Oct 6, 2020 - 9:36:11 AM | $277,600.00 | i21651 |
| Oct 6, 2020 - 9:36:06 AM | $277,500.00 | i9097 |
| Oct 6, 2020 - 9:36:06 AM | $277,400.00 | i21651 |
| Oct 6, 2020 - 9:36:03 AM | $277,300.00 | i9097 |
| Oct 6, 2020 - 9:36:03 AM | $277,200.00 | i21651 |
| Oct 6, 2020 - 9:36:00 AM | $277,100.00 | i9097 |
| Oct 6, 2020 - 9:36:00 AM | $277,000.00 | i21651 |
| Oct 6, 2020 - 9:35:56 AM | $276,900.00 | i9097 |
| Oct 6, 2020 - 9:35:56 AM | $276,800.00 | i21651 |
| Oct 6, 2020 - 9:35:54 AM | $276,700.00 | i9097 |
| Oct 6, 2020 - 9:35:54 AM | $276,600.00 | i21651 |
| Oct 6, 2020 - 9:35:51 AM | $276,500.00 | i9097 |
| Oct 6, 2020 - 9:35:51 AM | $276,400.00 | i21651 |
| Oct 6, 2020 - 9:35:47 AM | $276,300.00 | i9097 |
| Oct 6, 2020 - 9:35:47 AM | $276,200.00 | i21651 |
| Oct 6, 2020 - 9:35:45 AM | $276,100.00 | i9097 |
| Oct 6, 2020 - 9:35:45 AM | $276,000.00 | i21651 |
| Oct 6, 2020 - 9:35:42 AM | $275,900.00 | i9097 |
| Oct 6, 2020 - 9:35:42 AM | $275,800.00 | i21651 |
| Oct 6, 2020 - 9:35:39 AM | $275,700.00 | i9097 |
| Oct 6, 2020 - 9:35:39 AM | $275,600.00 | i21651 |
| Oct 6, 2020 - 9:35:36 AM | $275,500.00 | i9097 |
| Oct 6, 2020 - 9:35:36 AM | $275,400.00 | i21651 |
| Oct 6, 2020 - 9:35:33 AM | $275,300.00 | i9097 |
| Oct 6, 2020 - 9:35:33 AM | $275,200.00 | i21651 |
| Oct 6, 2020 - 9:35:31 AM | $275,100.00 | i9097 |
| Oct 6, 2020 - 9:35:31 AM | $275,000.00 | i21651 |
| Oct 6, 2020 - 9:35:28 AM | $274,900.00 | i9097 |
| Oct 6, 2020 - 9:35:28 AM | $274,800.00 | i21651 |
| Oct 6, 2020 - 9:35:25 AM | $274,700.00 | i9097 |
| Oct 6, 2020 - 9:35:25 AM | $274,600.00 | i21651 |
| Oct 6, 2020 - 9:35:21 AM | $274,500.00 | i9097 |
| Oct 6, 2020 - 9:35:21 AM | $274,400.00 | i21651 |
| Oct 6, 2020 - 9:35:18 AM | $274,300.00 | i9097 |
| Oct 6, 2020 - 9:35:18 AM | $274,200.00 | i21651 |
| Oct 6, 2020 - 9:35:16 AM | $274,100.00 | i9097 |
| Oct 6, 2020 - 9:35:16 AM | $274,000.00 | i21651 |
| Oct 6, 2020 - 9:35:12 AM | $273,900.00 | i9097 |
| Oct 6, 2020 - 9:35:12 AM | $273,800.00 | i21651 |
| Oct 6, 2020 - 9:35:09 AM | $273,700.00 | i9097 |
| Oct 6, 2020 - 9:35:09 AM | $273,600.00 | i21651 |
| Oct 6, 2020 - 9:35:05 AM | $273,500.00 | i9097 |
| Oct 6, 2020 - 9:35:05 AM | $273,400.00 | i21651 |
| Oct 6, 2020 - 9:35:02 AM | $273,300.00 | i9097 |
| Oct 6, 2020 - 9:35:02 AM | $273,200.00 | i21651 |
| Oct 6, 2020 - 9:34:58 AM | $273,100.00 | i9097 |
| Oct 6, 2020 - 9:34:58 AM | $273,000.00 | i21651 |
| Oct 6, 2020 - 9:34:56 AM | $272,900.00 | i9097 |
| Oct 6, 2020 - 9:34:56 AM | $272,800.00 | i21651 |
| Oct 6, 2020 - 9:34:53 AM | $272,700.00 | i9097 |
| Oct 6, 2020 - 9:34:53 AM | $272,600.00 | i21651 |
| Oct 6, 2020 - 9:34:51 AM | $272,500.00 | i9097 |
| Oct 6, 2020 - 9:34:51 AM | $272,400.00 | i21651 |
| Oct 6, 2020 - 9:34:48 AM | $272,300.00 | i9097 |
| Oct 6, 2020 - 9:34:48 AM | $272,200.00 | i21651 |
| Oct 6, 2020 - 9:34:46 AM | $272,100.00 | i9097 |
| Oct 6, 2020 - 9:34:46 AM | $272,000.00 | i21651 |
| Oct 6, 2020 - 9:34:41 AM | $271,900.00 | i9097 |
| Oct 6, 2020 - 9:34:41 AM | $271,800.00 | i21651 |
| Oct 6, 2020 - 9:34:38 AM | $271,700.00 | i9097 |
| Oct 6, 2020 - 9:34:38 AM | $271,600.00 | i21651 |
| Oct 6, 2020 - 9:34:35 AM | $271,500.00 | i9097 |
| Oct 6, 2020 - 9:34:35 AM | $271,400.00 | i21651 |
| Oct 6, 2020 - 9:34:33 AM | $271,300.00 | i9097 |
| Oct 6, 2020 - 9:34:33 AM | $271,200.00 | i21651 |
| Oct 6, 2020 - 9:34:30 AM | $271,100.00 | i9097 |
| Oct 6, 2020 - 9:34:30 AM | $271,000.00 | i21651 |
| Oct 6, 2020 - 9:34:27 AM | $270,900.00 | i9097 |
| Oct 6, 2020 - 9:34:27 AM | $270,800.00 | i21651 |
| Oct 6, 2020 - 9:34:25 AM | $270,700.00 | i9097 |
| Oct 6, 2020 - 9:34:25 AM | $270,600.00 | i21651 |
| Oct 6, 2020 - 9:34:21 AM | $270,500.00 | i9097 |
| Oct 6, 2020 - 9:34:21 AM | $270,400.00 | i21651 |
| Oct 6, 2020 - 9:34:19 AM | $270,300.00 | i9097 |
| Oct 6, 2020 - 9:34:19 AM | $270,200.00 | i21651 |
| Oct 6, 2020 - 9:34:16 AM | $270,100.00 | i9097 |
| Oct 6, 2020 - 9:34:16 AM | $270,000.00 | i21651 |
| Oct 6, 2020 - 9:34:14 AM | $269,900.00 | i9097 |
| Oct 6, 2020 - 9:34:14 AM | $269,800.00 | i21651 |
| Oct 6, 2020 - 9:34:10 AM | $269,700.00 | i9097 |
| Oct 6, 2020 - 9:34:10 AM | $269,600.00 | i21651 |
| Oct 6, 2020 - 9:34:08 AM | $269,500.00 | i9097 |
| Oct 6, 2020 - 9:34:08 AM | $269,400.00 | i21651 |
| Oct 6, 2020 - 9:34:06 AM | $269,300.00 | i9097 |
| Oct 6, 2020 - 9:34:06 AM | $269,200.00 | i21651 |
| Oct 6, 2020 - 9:34:03 AM | $269,100.00 | i9097 |
| Oct 6, 2020 - 9:34:03 AM | $269,000.00 | i21651 |
| Oct 6, 2020 - 9:33:53 AM | $268,900.00 | i9097 |
| Oct 6, 2020 - 9:33:53 AM | $268,800.00 | i21651 |
| Oct 6, 2020 - 9:33:50 AM | $268,700.00 | i9097 |
| Oct 6, 2020 - 9:33:50 AM | $268,600.00 | i21651 |
| Oct 6, 2020 - 9:33:47 AM | $268,500.00 | i9097 |
| Oct 6, 2020 - 9:33:47 AM | $268,400.00 | i21651 |
| Oct 6, 2020 - 9:33:42 AM | $268,300.00 | i9097 |
| Oct 6, 2020 - 9:33:42 AM | $268,200.00 | i21651 |
| Oct 6, 2020 - 9:33:39 AM | $268,100.00 | i9097 |
| Oct 6, 2020 - 9:33:39 AM | $268,000.00 | i21651 |
| Oct 6, 2020 - 9:33:36 AM | $267,900.00 | i9097 |
| Oct 6, 2020 - 9:33:36 AM | $267,800.00 | i21651 |
| Oct 6, 2020 - 9:33:33 AM | $267,700.00 | i9097 |
| Oct 6, 2020 - 9:33:33 AM | $267,600.00 | i21651 |
| Oct 6, 2020 - 9:33:29 AM | $267,500.00 | i9097 |
| Oct 6, 2020 - 9:33:29 AM | $267,400.00 | i21651 |
| Oct 6, 2020 - 9:33:12 AM | $267,300.00 | i9097 |
| Oct 6, 2020 - 9:33:12 AM | $267,200.00 | i21651 |
| Oct 6, 2020 - 9:33:09 AM | $267,100.00 | i9097 |
| Oct 6, 2020 - 9:33:09 AM | $267,000.00 | i21651 |
| Oct 6, 2020 - 9:33:07 AM | $266,900.00 | i9097 |
| Oct 6, 2020 - 9:33:07 AM | $266,800.00 | i21651 |
| Oct 6, 2020 - 9:33:03 AM | $266,700.00 | i9097 |
| Oct 6, 2020 - 9:33:03 AM | $266,600.00 | i21651 |
| Oct 6, 2020 - 9:33:00 AM | $266,500.00 | i9097 |
| Oct 6, 2020 - 9:33:00 AM | $266,400.00 | i21651 |
| Oct 6, 2020 - 9:32:57 AM | $266,300.00 | i9097 |
| Oct 6, 2020 - 9:32:57 AM | $266,200.00 | i21651 |
| Oct 6, 2020 - 9:32:54 AM | $266,100.00 | i9097 |
| Oct 6, 2020 - 9:32:54 AM | $266,000.00 | i21651 |
| Oct 6, 2020 - 9:32:51 AM | $265,900.00 | i9097 |
| Oct 6, 2020 - 9:32:51 AM | $265,800.00 | i21651 |
| Oct 6, 2020 - 9:32:47 AM | $265,700.00 | i9097 |
| Oct 6, 2020 - 9:32:47 AM | $265,600.00 | i21651 |
| Oct 6, 2020 - 9:32:44 AM | $265,500.00 | i9097 |
| Oct 6, 2020 - 9:32:44 AM | $265,400.00 | i21651 |
| Oct 6, 2020 - 9:32:41 AM | $265,300.00 | i9097 |
| Oct 6, 2020 - 9:32:41 AM | $265,200.00 | i21651 |
| Oct 6, 2020 - 9:32:39 AM | $265,100.00 | i9097 |
| Oct 6, 2020 - 9:32:39 AM | $265,000.00 | i21651 |
| Oct 6, 2020 - 9:32:36 AM | $264,900.00 | i9097 |
| Oct 6, 2020 - 9:32:36 AM | $264,800.00 | i21651 |
| Oct 6, 2020 - 9:32:34 AM | $264,700.00 | i9097 |
| Oct 6, 2020 - 9:32:34 AM | $264,600.00 | i21651 |
| Oct 6, 2020 - 9:32:30 AM | $264,500.00 | i9097 |
| Oct 6, 2020 - 9:32:30 AM | $264,400.00 | i21651 |
| Oct 6, 2020 - 9:32:28 AM | $264,300.00 | i9097 |
| Oct 6, 2020 - 9:32:28 AM | $264,200.00 | i21651 |
| Oct 6, 2020 - 9:32:24 AM | $264,100.00 | i9097 |
| Oct 6, 2020 - 9:32:24 AM | $264,000.00 | i21651 |
| Oct 6, 2020 - 9:32:21 AM | $263,900.00 | i9097 |
| Oct 6, 2020 - 9:32:21 AM | $263,800.00 | i21651 |
| Oct 6, 2020 - 9:32:18 AM | $263,700.00 | i9097 |
| Oct 6, 2020 - 9:32:18 AM | $263,600.00 | i21651 |
| Oct 6, 2020 - 9:32:16 AM | $263,500.00 | i9097 |
| Oct 6, 2020 - 9:32:16 AM | $263,400.00 | i21651 |
| Oct 6, 2020 - 9:32:13 AM | $263,300.00 | i9097 |
| Oct 6, 2020 - 9:32:13 AM | $263,200.00 | i21651 |
| Oct 6, 2020 - 9:32:10 AM | $263,100.00 | i9097 |
| Oct 6, 2020 - 9:32:10 AM | $263,000.00 | i21651 |
| Oct 6, 2020 - 9:32:08 AM | $262,900.00 | i9097 |
| Oct 6, 2020 - 9:32:08 AM | $262,800.00 | i21651 |
| Oct 6, 2020 - 9:32:05 AM | $262,700.00 | i9097 |
| Oct 6, 2020 - 9:32:05 AM | $262,600.00 | i21651 |
| Oct 6, 2020 - 9:32:03 AM | $262,500.00 | i9097 |
| Oct 6, 2020 - 9:32:03 AM | $262,400.00 | i21651 |
| Oct 6, 2020 - 9:32:00 AM | $262,300.00 | i9097 |
| Oct 6, 2020 - 9:32:00 AM | $262,200.00 | i21651 |
| Oct 6, 2020 - 9:31:53 AM | $262,100.00 | i9097 |
| Oct 6, 2020 - 9:31:53 AM | $262,000.00 | i21651 |
| Oct 6, 2020 - 9:31:51 AM | $261,900.00 | i9097 |
| Oct 6, 2020 - 9:31:51 AM | $261,800.00 | i21651 |
| Oct 6, 2020 - 9:31:46 AM | $261,700.00 | i9097 |
| Oct 6, 2020 - 9:31:46 AM | $261,600.00 | i21651 |
| Oct 6, 2020 - 9:31:44 AM | $261,500.00 | i9097 |
| Oct 6, 2020 - 9:31:44 AM | $261,400.00 | i21651 |
| Oct 6, 2020 - 9:31:41 AM | $261,300.00 | i9097 |
| Oct 6, 2020 - 9:31:41 AM | $261,200.00 | i21651 |
| Oct 6, 2020 - 9:31:32 AM | $261,100.00 | i9097 |
| Oct 6, 2020 - 9:31:32 AM | $261,000.00 | i21651 |
| Oct 6, 2020 - 9:31:28 AM | $260,900.00 | i9097 |
| Oct 6, 2020 - 9:31:28 AM | $260,800.00 | i21651 |
| Oct 6, 2020 - 9:31:23 AM | $260,700.00 | i9097 |
| Oct 6, 2020 - 9:31:23 AM | $260,600.00 | i21651 |
| Oct 6, 2020 - 9:31:20 AM | $260,500.00 | i9097 |
| Oct 6, 2020 - 9:31:20 AM | $260,400.00 | i21651 |
| Oct 6, 2020 - 9:31:17 AM | $260,300.00 | i9097 |
| Oct 6, 2020 - 9:31:17 AM | $260,200.00 | i21651 |
| Oct 6, 2020 - 9:31:13 AM | $260,100.00 | i9097 |
| Oct 6, 2020 - 9:31:13 AM | $260,000.00 | i21651 |
| Oct 6, 2020 - 9:31:11 AM | $259,900.00 | i9097 |
| Oct 6, 2020 - 9:31:11 AM | $259,800.00 | i21651 |
| Oct 6, 2020 - 9:31:07 AM | $259,700.00 | i9097 |
| Oct 6, 2020 - 9:31:07 AM | $259,600.00 | i21651 |
| Oct 6, 2020 - 9:31:04 AM | $259,500.00 | i9097 |
| Oct 6, 2020 - 9:31:04 AM | $259,400.00 | i21651 |
| Oct 6, 2020 - 9:31:01 AM | $259,300.00 | i9097 |
| Oct 6, 2020 - 9:31:01 AM | $259,200.00 | i21651 |
| Oct 6, 2020 - 9:30:55 AM | $259,100.00 | i9097 |
| Oct 6, 2020 - 9:30:55 AM | $259,000.00 | i21651 |
| Oct 6, 2020 - 9:30:46 AM | $258,900.00 | i9097 |
| Oct 6, 2020 - 9:30:46 AM | $258,800.00 | i21651 |
| Oct 6, 2020 - 9:30:43 AM | $258,700.00 | i9097 |
| Oct 6, 2020 - 9:30:43 AM | $258,600.00 | i21651 |
| Oct 6, 2020 - 9:30:41 AM | $258,500.00 | i9097 |
| Oct 6, 2020 - 9:30:41 AM | $258,400.00 | i21651 |
| Oct 6, 2020 - 9:30:39 AM | $258,300.00 | i9097 |
| Oct 6, 2020 - 9:30:39 AM | $258,200.00 | i21651 |
| Oct 6, 2020 - 9:30:36 AM | $258,100.00 | i9097 |
| Oct 6, 2020 - 9:30:36 AM | $258,000.00 | i21651 |
| Oct 6, 2020 - 9:30:33 AM | $257,900.00 | i9097 |
| Oct 6, 2020 - 9:30:33 AM | $257,800.00 | i21651 |
| Oct 6, 2020 - 9:30:31 AM | $257,700.00 | i9097 |
| Oct 6, 2020 - 9:30:31 AM | $257,600.00 | i21651 |
| Oct 6, 2020 - 9:30:28 AM | $257,500.00 | i9097 |
| Oct 6, 2020 - 9:30:28 AM | $257,400.00 | i21651 |
| Oct 6, 2020 - 9:30:26 AM | $257,300.00 | i9097 |
| Oct 6, 2020 - 9:30:26 AM | $257,200.00 | i21651 |
| Oct 6, 2020 - 9:30:23 AM | $257,100.00 | i9097 |
| Oct 6, 2020 - 9:30:23 AM | $257,000.00 | i21651 |
| Oct 6, 2020 - 9:30:15 AM | $256,900.00 | i9097 |
| Oct 6, 2020 - 9:30:15 AM | $256,800.00 | i21651 |
| Oct 6, 2020 - 9:30:11 AM | $256,700.00 | i9097 |
| Oct 6, 2020 - 9:30:11 AM | $256,600.00 | i21651 |
| Oct 6, 2020 - 9:30:08 AM | $256,500.00 | i9097 |
| Oct 6, 2020 - 9:30:08 AM | $256,400.00 | i21651 |
| Oct 6, 2020 - 9:30:05 AM | $256,300.00 | i9097 |
| Oct 6, 2020 - 9:30:05 AM | $256,200.00 | i21651 |
| Oct 6, 2020 - 9:30:01 AM | $256,100.00 | i9097 |
| Oct 6, 2020 - 9:30:01 AM | $256,000.00 | i21651 |
| Oct 6, 2020 - 9:29:58 AM | $255,900.00 | i9097 |
| Oct 6, 2020 - 9:29:58 AM | $255,800.00 | i21651 |
| Oct 6, 2020 - 9:29:55 AM | $255,700.00 | i9097 |
| Oct 6, 2020 - 9:29:55 AM | $255,600.00 | i21651 |
| Oct 6, 2020 - 9:29:53 AM | $255,500.00 | i9097 |
| Oct 6, 2020 - 9:29:53 AM | $255,400.00 | i21651 |
| Oct 6, 2020 - 9:29:50 AM | $255,300.00 | i9097 |
| Oct 6, 2020 - 9:29:50 AM | $255,200.00 | i21651 |
| Oct 6, 2020 - 9:29:47 AM | $255,100.00 | i9097 |
| Oct 6, 2020 - 9:29:47 AM | $255,000.00 | i21651 |
| Oct 6, 2020 - 9:29:45 AM | $254,900.00 | i9097 |
| Oct 6, 2020 - 9:29:45 AM | $254,800.00 | i21651 |
| Oct 6, 2020 - 9:29:42 AM | $254,700.00 | i9097 |
| Oct 6, 2020 - 9:29:42 AM | $254,600.00 | i21651 |
| Oct 6, 2020 - 9:29:38 AM | $254,500.00 | i9097 |
| Oct 6, 2020 - 9:29:38 AM | $254,400.00 | i21651 |
| Oct 6, 2020 - 9:29:35 AM | $254,300.00 | i9097 |
| Oct 6, 2020 - 9:29:35 AM | $254,200.00 | i21651 |
| Oct 6, 2020 - 9:29:32 AM | $254,100.00 | i9097 |
| Oct 6, 2020 - 9:29:32 AM | $254,000.00 | i21651 |
| Oct 6, 2020 - 9:29:30 AM | $253,900.00 | i9097 |
| Oct 6, 2020 - 9:29:30 AM | $253,800.00 | i21651 |
| Oct 6, 2020 - 9:29:27 AM | $253,700.00 | i9097 |
| Oct 6, 2020 - 9:29:27 AM | $253,600.00 | i21651 |
| Oct 6, 2020 - 9:29:24 AM | $253,500.00 | i9097 |
| Oct 6, 2020 - 9:29:24 AM | $253,400.00 | i21651 |
| Oct 6, 2020 - 9:29:21 AM | $253,300.00 | i9097 |
| Oct 6, 2020 - 9:29:21 AM | $253,200.00 | i21651 |
| Oct 6, 2020 - 9:29:19 AM | $253,100.00 | i9097 |
| Oct 6, 2020 - 9:29:19 AM | $253,000.00 | i21651 |
| Oct 6, 2020 - 9:29:16 AM | $252,900.00 | i9097 |
| Oct 6, 2020 - 9:29:16 AM | $252,800.00 | i21651 |
| Oct 6, 2020 - 9:29:14 AM | $252,700.00 | i9097 |
| Oct 6, 2020 - 9:29:14 AM | $252,600.00 | i21651 |
| Oct 6, 2020 - 9:29:11 AM | $252,500.00 | i9097 |
| Oct 6, 2020 - 9:29:11 AM | $252,400.00 | i21651 |
| Oct 6, 2020 - 9:29:08 AM | $252,300.00 | i9097 |
| Oct 6, 2020 - 9:29:08 AM | $252,200.00 | i21651 |
| Oct 6, 2020 - 9:29:05 AM | $252,100.00 | i9097 |
| Oct 6, 2020 - 9:29:05 AM | $252,000.00 | i21651 |
| Oct 6, 2020 - 9:29:03 AM | $251,900.00 | i9097 |
| Oct 6, 2020 - 9:29:03 AM | $251,800.00 | i21651 |
| Oct 6, 2020 - 9:28:58 AM | $251,700.00 | i9097 |
| Oct 6, 2020 - 9:28:58 AM | $251,600.00 | i21651 |
| Oct 6, 2020 - 9:28:55 AM | $251,500.00 | i9097 |
| Oct 6, 2020 - 9:28:55 AM | $251,400.00 | i21651 |
| Oct 6, 2020 - 9:28:53 AM | $251,300.00 | i9097 |
| Oct 6, 2020 - 9:28:53 AM | $251,200.00 | i21651 |
| Oct 6, 2020 - 9:28:50 AM | $251,100.00 | i9097 |
| Oct 6, 2020 - 9:28:50 AM | $251,000.00 | i21651 |
| Oct 6, 2020 - 9:28:47 AM | $250,900.00 | i9097 |
| Oct 6, 2020 - 9:28:47 AM | $250,800.00 | i21651 |
| Oct 6, 2020 - 9:28:45 AM | $250,700.00 | i9097 |
| Oct 6, 2020 - 9:28:45 AM | $250,600.00 | i21651 |
| Oct 6, 2020 - 9:28:41 AM | $250,500.00 | i9097 |
| Oct 6, 2020 - 9:28:41 AM | $250,400.00 | i21651 |
| Oct 6, 2020 - 9:28:35 AM | $250,300.00 | i9097 |
| Oct 6, 2020 - 9:28:35 AM | $250,200.00 | i21651 |
| Oct 6, 2020 - 8:55:46 AM | $250,100.00 | i9097 |
| Oct 6, 2020 - 8:55:46 AM | $250,000.00 | i21646 |
| Oct 6, 2020 - 8:55:07 AM | $228,325.00 | i21646 |
| Oct 6, 2020 - 8:40:10 AM | $228,225.00 | i21651 |
| Oct 6, 2020 - 8:40:08 AM | $228,125.00 | i21646 |
| Oct 6, 2020 - 8:40:08 AM | $228,100.00 | i21651 |
| Oct 6, 2020 - 8:40:06 AM | $228,000.00 | i21646 |
| Oct 6, 2020 - 8:40:06 AM | $227,900.00 | i21651 |
| Oct 6, 2020 - 8:40:04 AM | $227,800.00 | i21646 |
| Oct 6, 2020 - 8:40:04 AM | $227,700.00 | i21651 |
| Oct 6, 2020 - 8:40:02 AM | $227,600.00 | i21646 |
| Oct 6, 2020 - 8:40:02 AM | $227,500.00 | i21651 |
| Oct 6, 2020 - 8:40:00 AM | $227,400.00 | i21646 |
| Oct 6, 2020 - 8:40:00 AM | $227,300.00 | i21651 |
| Oct 6, 2020 - 8:39:57 AM | $227,200.00 | i21646 |
| Oct 6, 2020 - 8:39:57 AM | $227,100.00 | i21651 |
| Oct 6, 2020 - 8:39:54 AM | $227,000.00 | i21646 |
| Oct 6, 2020 - 8:39:54 AM | $226,900.00 | i21651 |
| Oct 6, 2020 - 8:39:51 AM | $226,800.00 | i21646 |
| Oct 6, 2020 - 8:39:51 AM | $226,700.00 | i21651 |
| Oct 6, 2020 - 8:39:49 AM | $226,600.00 | i21646 |
| Oct 6, 2020 - 8:39:49 AM | $226,500.00 | i21651 |
| Oct 6, 2020 - 8:39:44 AM | $226,400.00 | i21646 |
| Oct 6, 2020 - 8:39:44 AM | $226,300.00 | i21651 |
| Oct 6, 2020 - 8:39:42 AM | $226,200.00 | i21646 |
| Oct 6, 2020 - 8:39:42 AM | $226,100.00 | i21651 |
| Oct 6, 2020 - 8:39:40 AM | $226,000.00 | i21646 |
| Oct 6, 2020 - 8:39:40 AM | $225,900.00 | i21651 |
| Oct 6, 2020 - 8:39:38 AM | $225,800.00 | i21646 |
| Oct 6, 2020 - 8:39:38 AM | $225,700.00 | i21651 |
| Oct 6, 2020 - 8:39:36 AM | $225,600.00 | i21646 |
| Oct 6, 2020 - 8:39:36 AM | $225,500.00 | i21651 |
| Oct 6, 2020 - 8:39:31 AM | $225,400.00 | i21646 |
| Oct 6, 2020 - 8:39:31 AM | $225,300.00 | i21651 |
| Oct 6, 2020 - 8:39:29 AM | $225,200.00 | i21646 |
| Oct 6, 2020 - 8:39:29 AM | $225,100.00 | i21651 |
| Oct 6, 2020 - 8:39:27 AM | $225,000.00 | i21646 |
| Oct 6, 2020 - 8:39:27 AM | $224,900.00 | i21651 |
| Oct 6, 2020 - 8:39:23 AM | $224,800.00 | i21646 |
| Oct 6, 2020 - 8:39:23 AM | $224,700.00 | i21651 |
| Oct 6, 2020 - 8:39:21 AM | $224,600.00 | i21646 |
| Oct 6, 2020 - 8:39:21 AM | $224,500.00 | i21651 |
| Oct 6, 2020 - 8:39:19 AM | $224,400.00 | i21646 |
| Oct 6, 2020 - 8:39:19 AM | $224,300.00 | i21651 |
| Oct 6, 2020 - 8:39:17 AM | $224,200.00 | i21646 |
| Oct 6, 2020 - 8:39:17 AM | $224,100.00 | i21651 |
| Oct 6, 2020 - 8:39:15 AM | $224,000.00 | i21646 |
| Oct 6, 2020 - 8:39:15 AM | $223,900.00 | i21651 |
| Oct 6, 2020 - 8:39:13 AM | $223,800.00 | i21646 |
| Oct 6, 2020 - 8:39:13 AM | $223,700.00 | i21651 |
| Oct 6, 2020 - 8:39:10 AM | $223,600.00 | i21646 |
| Oct 6, 2020 - 8:39:10 AM | $223,500.00 | i21651 |
| Oct 6, 2020 - 8:39:08 AM | $223,400.00 | i21646 |
| Oct 6, 2020 - 8:39:08 AM | $223,300.00 | i21651 |
| Oct 6, 2020 - 8:39:06 AM | $223,200.00 | i21646 |
| Oct 6, 2020 - 8:39:06 AM | $223,100.00 | i21651 |
| Oct 6, 2020 - 8:39:03 AM | $223,000.00 | i21646 |
| Oct 6, 2020 - 8:39:03 AM | $222,900.00 | i21651 |
| Oct 6, 2020 - 8:39:01 AM | $222,800.00 | i21646 |
| Oct 6, 2020 - 8:39:01 AM | $222,700.00 | i21651 |
| Oct 6, 2020 - 8:38:58 AM | $222,600.00 | i21646 |
| Oct 6, 2020 - 8:38:58 AM | $222,500.00 | i21651 |
| Oct 6, 2020 - 8:38:55 AM | $222,400.00 | i21646 |
| Oct 6, 2020 - 8:38:55 AM | $222,300.00 | i21651 |
| Oct 6, 2020 - 8:38:52 AM | $222,200.00 | i21646 |
| Oct 6, 2020 - 8:38:52 AM | $222,100.00 | i21651 |
| Oct 6, 2020 - 8:38:49 AM | $222,000.00 | i21646 |
| Oct 6, 2020 - 8:38:49 AM | $221,900.00 | i21651 |
| Oct 6, 2020 - 8:38:46 AM | $221,800.00 | i21646 |
| Oct 6, 2020 - 8:38:46 AM | $221,700.00 | i21651 |
| Oct 6, 2020 - 8:38:44 AM | $221,600.00 | i21646 |
| Oct 6, 2020 - 8:38:44 AM | $221,500.00 | i21651 |
| Oct 6, 2020 - 8:38:40 AM | $221,400.00 | i21646 |
| Oct 6, 2020 - 8:38:40 AM | $221,300.00 | i21651 |
| Oct 6, 2020 - 8:38:38 AM | $221,200.00 | i21646 |
| Oct 6, 2020 - 8:38:38 AM | $221,100.00 | i21651 |
| Oct 6, 2020 - 8:38:35 AM | $221,000.00 | i21646 |
| Oct 6, 2020 - 8:38:35 AM | $220,900.00 | i21651 |
| Oct 6, 2020 - 8:38:33 AM | $220,800.00 | i21646 |
| Oct 6, 2020 - 8:38:33 AM | $220,700.00 | i21651 |
| Oct 6, 2020 - 8:38:31 AM | $220,600.00 | i21646 |
| Oct 6, 2020 - 8:38:31 AM | $220,500.00 | i21651 |
| Oct 6, 2020 - 8:38:28 AM | $220,400.00 | i21646 |
| Oct 6, 2020 - 8:38:28 AM | $220,300.00 | i21651 |
| Oct 6, 2020 - 8:38:26 AM | $220,200.00 | i21646 |
| Oct 6, 2020 - 8:38:26 AM | $220,100.00 | i21651 |
| Oct 6, 2020 - 8:38:24 AM | $220,000.00 | i21646 |
| Oct 6, 2020 - 8:38:24 AM | $219,900.00 | i21651 |
| Oct 6, 2020 - 8:38:21 AM | $219,800.00 | i21646 |
| Oct 6, 2020 - 8:38:21 AM | $219,700.00 | i21651 |
| Oct 6, 2020 - 8:38:19 AM | $219,600.00 | i21646 |
| Oct 6, 2020 - 8:38:19 AM | $219,500.00 | i21651 |
| Oct 6, 2020 - 8:38:17 AM | $219,400.00 | i21646 |
| Oct 6, 2020 - 8:38:17 AM | $219,300.00 | i21651 |
| Oct 6, 2020 - 8:38:16 AM | $219,200.00 | i21646 |
| Oct 6, 2020 - 8:38:16 AM | $219,100.00 | i21651 |
| Oct 6, 2020 - 8:38:14 AM | $219,000.00 | i21646 |
| Oct 6, 2020 - 8:38:14 AM | $218,900.00 | i21651 |
| Oct 6, 2020 - 8:38:11 AM | $218,800.00 | i21646 |
| Oct 6, 2020 - 8:38:11 AM | $218,700.00 | i21651 |
| Oct 6, 2020 - 8:38:09 AM | $218,600.00 | i21646 |
| Oct 6, 2020 - 8:38:09 AM | $218,500.00 | i21651 |
| Oct 6, 2020 - 8:38:06 AM | $218,400.00 | i21646 |
| Oct 6, 2020 - 8:38:06 AM | $218,300.00 | i21651 |
| Oct 6, 2020 - 8:37:47 AM | $218,200.00 | i21646 |
| Oct 6, 2020 - 8:37:47 AM | $218,100.00 | i21651 |
| Oct 6, 2020 - 8:37:44 AM | $218,000.00 | i21646 |
| Oct 6, 2020 - 8:37:44 AM | $217,900.00 | i21651 |
| Oct 6, 2020 - 8:37:41 AM | $217,800.00 | i21646 |
| Oct 6, 2020 - 8:37:41 AM | $217,700.00 | i21651 |
| Oct 6, 2020 - 8:37:39 AM | $217,600.00 | i21646 |
| Oct 6, 2020 - 8:37:39 AM | $217,500.00 | i21651 |
| Oct 6, 2020 - 8:37:36 AM | $217,400.00 | i21646 |
| Oct 6, 2020 - 8:37:36 AM | $217,300.00 | i21651 |
| Oct 6, 2020 - 8:37:34 AM | $217,200.00 | i21646 |
| Oct 6, 2020 - 8:37:34 AM | $217,100.00 | i21651 |
| Oct 6, 2020 - 8:37:32 AM | $217,000.00 | i21646 |
| Oct 6, 2020 - 8:37:32 AM | $216,900.00 | i21651 |
| Oct 6, 2020 - 8:37:29 AM | $216,800.00 | i21646 |
| Oct 6, 2020 - 8:37:29 AM | $216,700.00 | i21651 |
| Oct 6, 2020 - 8:37:26 AM | $216,600.00 | i21646 |
| Oct 6, 2020 - 8:37:26 AM | $216,500.00 | i21651 |
| Oct 6, 2020 - 8:37:23 AM | $216,400.00 | i21646 |
| Oct 6, 2020 - 8:37:23 AM | $216,300.00 | i21651 |
| Oct 6, 2020 - 8:37:21 AM | $216,200.00 | i21646 |
| Oct 6, 2020 - 8:37:21 AM | $216,100.00 | i21651 |
| Oct 6, 2020 - 8:37:19 AM | $216,000.00 | i21646 |
| Oct 6, 2020 - 8:37:19 AM | $215,900.00 | i21651 |
| Oct 6, 2020 - 8:37:16 AM | $215,800.00 | i21646 |
| Oct 6, 2020 - 8:37:16 AM | $215,700.00 | i21651 |
| Oct 6, 2020 - 8:37:12 AM | $215,600.00 | i21646 |
| Oct 6, 2020 - 8:37:12 AM | $215,500.00 | i21651 |
| Oct 6, 2020 - 8:37:10 AM | $215,400.00 | i21646 |
| Oct 6, 2020 - 8:37:10 AM | $215,300.00 | i21651 |
| Oct 6, 2020 - 8:37:08 AM | $215,200.00 | i21646 |
| Oct 6, 2020 - 8:37:08 AM | $215,100.00 | i21651 |
| Oct 6, 2020 - 8:37:06 AM | $215,000.00 | i21646 |
| Oct 6, 2020 - 8:37:06 AM | $214,900.00 | i21651 |
| Oct 6, 2020 - 8:37:04 AM | $214,800.00 | i21646 |
| Oct 6, 2020 - 8:37:04 AM | $214,700.00 | i21651 |
| Oct 6, 2020 - 8:37:02 AM | $214,600.00 | i21646 |
| Oct 6, 2020 - 8:37:02 AM | $214,500.00 | i21651 |
| Oct 6, 2020 - 8:36:59 AM | $214,400.00 | i21646 |
| Oct 6, 2020 - 8:36:59 AM | $214,300.00 | i21651 |
| Oct 6, 2020 - 8:36:55 AM | $214,200.00 | i21646 |
| Oct 6, 2020 - 8:36:55 AM | $214,100.00 | i21651 |
| Oct 6, 2020 - 8:36:53 AM | $214,000.00 | i21646 |
| Oct 6, 2020 - 8:36:53 AM | $213,900.00 | i21651 |
| Oct 6, 2020 - 8:36:51 AM | $213,800.00 | i21646 |
| Oct 6, 2020 - 8:36:51 AM | $213,700.00 | i21651 |
| Oct 6, 2020 - 8:36:48 AM | $213,600.00 | i21646 |
| Oct 6, 2020 - 8:36:48 AM | $213,500.00 | i21651 |
| Oct 6, 2020 - 8:36:46 AM | $213,400.00 | i21646 |
| Oct 6, 2020 - 8:36:46 AM | $213,300.00 | i21651 |
| Oct 6, 2020 - 8:36:44 AM | $213,200.00 | i21646 |
| Oct 6, 2020 - 8:36:44 AM | $213,100.00 | i21651 |
| Oct 6, 2020 - 8:36:40 AM | $213,000.00 | i21646 |
| Oct 6, 2020 - 8:36:40 AM | $212,900.00 | i21651 |
| Oct 6, 2020 - 8:36:37 AM | $212,800.00 | i21646 |
| Oct 6, 2020 - 8:36:37 AM | $212,700.00 | i21651 |
| Oct 6, 2020 - 8:36:35 AM | $212,600.00 | i21646 |
| Oct 6, 2020 - 8:36:35 AM | $212,500.00 | i21651 |
| Oct 6, 2020 - 8:36:33 AM | $212,400.00 | i21646 |
| Oct 6, 2020 - 8:36:33 AM | $212,300.00 | i21651 |
| Oct 6, 2020 - 8:36:30 AM | $212,200.00 | i21646 |
| Oct 6, 2020 - 8:36:30 AM | $212,100.00 | i21651 |
| Oct 6, 2020 - 8:36:23 AM | $212,000.00 | i21646 |
| Oct 6, 2020 - 8:36:23 AM | $211,900.00 | i21651 |
| Oct 6, 2020 - 8:36:21 AM | $211,800.00 | i21646 |
| Oct 6, 2020 - 8:36:21 AM | $211,700.00 | i21651 |
| Oct 6, 2020 - 8:36:19 AM | $211,600.00 | i21646 |
| Oct 6, 2020 - 8:36:19 AM | $211,500.00 | i21651 |
| Oct 6, 2020 - 8:36:17 AM | $211,400.00 | i21646 |
| Oct 6, 2020 - 8:36:17 AM | $211,300.00 | i21651 |
| Oct 6, 2020 - 8:36:15 AM | $211,200.00 | i21646 |
| Oct 6, 2020 - 8:36:15 AM | $211,100.00 | i21651 |
| Oct 6, 2020 - 8:36:13 AM | $211,000.00 | i21646 |
| Oct 6, 2020 - 8:36:13 AM | $210,900.00 | i21651 |
| Oct 6, 2020 - 8:36:07 AM | $210,800.00 | i21646 |
| Oct 6, 2020 - 8:36:07 AM | $210,700.00 | i21651 |
| Oct 6, 2020 - 8:36:05 AM | $210,600.00 | i21646 |
| Oct 6, 2020 - 8:36:05 AM | $210,500.00 | i21651 |
| Oct 6, 2020 - 8:36:01 AM | $210,400.00 | i21646 |
| Oct 6, 2020 - 8:36:01 AM | $210,300.00 | i21651 |
| Oct 6, 2020 - 8:22:51 AM | $210,200.00 | i21646 |
| Oct 6, 2020 - 8:14:33 AM | $210,100.00 | i21651 |
| Oct 6, 2020 - 8:14:31 AM | $210,000.00 | i9097 |
| Oct 6, 2020 - 8:14:32 AM | $210,000.00 | i21651 |
| Oct 6, 2020 - 8:14:29 AM | $209,900.00 | i9097 |
| Oct 6, 2020 - 8:14:29 AM | $209,800.00 | i21651 |
| Oct 6, 2020 - 8:14:27 AM | $209,700.00 | i9097 |
| Oct 6, 2020 - 8:14:27 AM | $209,600.00 | i21651 |
| Oct 6, 2020 - 8:14:25 AM | $209,500.00 | i9097 |
| Oct 6, 2020 - 8:14:25 AM | $209,400.00 | i21651 |
| Oct 6, 2020 - 8:14:23 AM | $209,300.00 | i9097 |
| Oct 6, 2020 - 8:14:23 AM | $209,200.00 | i21651 |
| Oct 6, 2020 - 8:14:21 AM | $209,100.00 | i9097 |
| Oct 6, 2020 - 8:14:21 AM | $209,000.00 | i21651 |
| Oct 6, 2020 - 8:14:15 AM | $208,900.00 | i9097 |
| Oct 6, 2020 - 8:14:15 AM | $208,800.00 | i21651 |
| Oct 6, 2020 - 8:14:13 AM | $208,700.00 | i9097 |
| Oct 6, 2020 - 8:14:13 AM | $208,600.00 | i21651 |
| Oct 6, 2020 - 8:14:10 AM | $208,500.00 | i9097 |
| Oct 6, 2020 - 8:14:10 AM | $208,400.00 | i21651 |
| Oct 6, 2020 - 8:14:08 AM | $208,300.00 | i9097 |
| Oct 6, 2020 - 8:14:08 AM | $208,200.00 | i21651 |
| Oct 6, 2020 - 8:14:06 AM | $208,100.00 | i9097 |
| Oct 6, 2020 - 8:14:06 AM | $208,000.00 | i21651 |
| Oct 6, 2020 - 8:14:04 AM | $207,900.00 | i9097 |
| Oct 6, 2020 - 8:14:04 AM | $207,800.00 | i21651 |
| Oct 6, 2020 - 8:14:00 AM | $207,700.00 | i9097 |
| Oct 6, 2020 - 8:14:00 AM | $207,600.00 | i21651 |
| Oct 6, 2020 - 8:13:57 AM | $207,500.00 | i9097 |
| Oct 6, 2020 - 8:13:57 AM | $207,400.00 | i21651 |
| Oct 6, 2020 - 8:13:55 AM | $207,300.00 | i9097 |
| Oct 6, 2020 - 8:13:55 AM | $207,200.00 | i21651 |
| Oct 6, 2020 - 8:13:53 AM | $207,100.00 | i9097 |
| Oct 6, 2020 - 8:13:53 AM | $207,000.00 | i21651 |
| Oct 6, 2020 - 8:13:51 AM | $206,900.00 | i9097 |
| Oct 6, 2020 - 8:13:51 AM | $206,800.00 | i21651 |
| Oct 6, 2020 - 8:13:49 AM | $206,700.00 | i9097 |
| Oct 6, 2020 - 8:13:49 AM | $206,600.00 | i21651 |
| Oct 6, 2020 - 8:13:46 AM | $206,500.00 | i9097 |
| Oct 6, 2020 - 8:13:46 AM | $206,400.00 | i21651 |
| Oct 6, 2020 - 8:13:44 AM | $206,300.00 | i9097 |
| Oct 6, 2020 - 8:13:44 AM | $206,200.00 | i21651 |
| Oct 6, 2020 - 8:13:42 AM | $206,100.00 | i9097 |
| Oct 6, 2020 - 8:13:42 AM | $206,000.00 | i21651 |
| Oct 6, 2020 - 8:13:38 AM | $205,900.00 | i9097 |
| Oct 6, 2020 - 8:13:38 AM | $205,800.00 | i21651 |
| Oct 6, 2020 - 8:12:55 AM | $205,700.00 | i9097 |
| Oct 6, 2020 - 8:12:55 AM | $205,600.00 | i21651 |
| Oct 6, 2020 - 8:12:40 AM | $205,500.00 | i9097 |
| Oct 6, 2020 - 8:12:40 AM | $205,400.00 | i21651 |
| Oct 6, 2020 - 8:12:38 AM | $205,300.00 | i9097 |
| Oct 6, 2020 - 8:12:38 AM | $205,200.00 | i21651 |
| Oct 6, 2020 - 8:12:32 AM | $205,100.00 | i9097 |
| Oct 6, 2020 - 8:12:32 AM | $205,000.00 | i21651 |
| Oct 6, 2020 - 8:12:30 AM | $204,900.00 | i9097 |
| Oct 6, 2020 - 8:12:30 AM | $204,800.00 | i21651 |
| Oct 6, 2020 - 8:12:28 AM | $204,700.00 | i9097 |
| Oct 6, 2020 - 8:12:28 AM | $204,600.00 | i21651 |
| Oct 6, 2020 - 8:12:25 AM | $204,500.00 | i9097 |
| Oct 6, 2020 - 8:12:25 AM | $204,400.00 | i21651 |
| Oct 6, 2020 - 8:12:22 AM | $204,300.00 | i9097 |
| Oct 6, 2020 - 8:12:22 AM | $204,200.00 | i21651 |
| Oct 6, 2020 - 8:12:17 AM | $204,100.00 | i9097 |
| Oct 6, 2020 - 8:12:17 AM | $204,000.00 | i21651 |
| Oct 6, 2020 - 8:12:15 AM | $203,900.00 | i9097 |
| Oct 6, 2020 - 8:12:15 AM | $203,800.00 | i21651 |
| Oct 6, 2020 - 8:12:10 AM | $203,700.00 | i9097 |
| Oct 6, 2020 - 8:12:10 AM | $203,600.00 | i21651 |
| Oct 6, 2020 - 8:12:08 AM | $203,500.00 | i9097 |
| Oct 6, 2020 - 8:12:08 AM | $203,400.00 | i21651 |
| Oct 6, 2020 - 8:12:01 AM | $203,300.00 | i9097 |
| Oct 6, 2020 - 8:12:01 AM | $203,200.00 | i21651 |
| Oct 6, 2020 - 8:11:59 AM | $203,100.00 | i9097 |
| Oct 6, 2020 - 8:11:59 AM | $203,000.00 | i21651 |
| Oct 6, 2020 - 8:11:55 AM | $202,900.00 | i9097 |
| Oct 6, 2020 - 8:11:55 AM | $202,800.00 | i21651 |
| Oct 6, 2020 - 8:11:52 AM | $202,700.00 | i9097 |
| Oct 6, 2020 - 8:11:52 AM | $202,600.00 | i21651 |
| Oct 6, 2020 - 8:11:49 AM | $202,500.00 | i9097 |
| Oct 6, 2020 - 8:11:49 AM | $202,400.00 | i21651 |
| Oct 6, 2020 - 8:11:47 AM | $202,300.00 | i9097 |
| Oct 6, 2020 - 8:11:47 AM | $202,200.00 | i21651 |
| Oct 6, 2020 - 8:11:44 AM | $202,100.00 | i9097 |
| Oct 6, 2020 - 8:11:44 AM | $202,000.00 | i21651 |
| Oct 6, 2020 - 8:11:41 AM | $201,900.00 | i9097 |
| Oct 6, 2020 - 8:11:41 AM | $201,800.00 | i21651 |
| Oct 6, 2020 - 8:11:39 AM | $201,700.00 | i9097 |
| Oct 6, 2020 - 8:11:39 AM | $201,600.00 | i21651 |
| Oct 6, 2020 - 8:11:36 AM | $201,500.00 | i9097 |
| Oct 6, 2020 - 8:11:36 AM | $201,400.00 | i21651 |
| Oct 6, 2020 - 8:11:34 AM | $201,300.00 | i9097 |
| Oct 6, 2020 - 8:11:34 AM | $201,200.00 | i21651 |
| Oct 6, 2020 - 8:11:31 AM | $201,100.00 | i9097 |
| Oct 6, 2020 - 8:11:31 AM | $201,000.00 | i21651 |
| Oct 6, 2020 - 8:11:29 AM | $200,900.00 | i9097 |
| Oct 6, 2020 - 8:11:29 AM | $200,800.00 | i21651 |
| Oct 6, 2020 - 8:09:25 AM | $200,700.00 | i9097 |
| Oct 6, 2020 - 8:02:44 AM | $200,600.00 | i21651 |
| Oct 6, 2020 - 8:02:44 AM | $200,550.00 | i9097 |
| Oct 6, 2020 - 8:02:42 AM | $200,500.00 | i9097 |
| Oct 6, 2020 - 8:02:42 AM | $200,400.00 | i21651 |
| Oct 6, 2020 - 8:02:33 AM | $200,300.00 | i9097 |
| Oct 6, 2020 - 8:02:33 AM | $200,200.00 | i21651 |
| Oct 6, 2020 - 8:02:30 AM | $200,100.00 | i9097 |
| Oct 6, 2020 - 8:02:30 AM | $200,000.00 | i21651 |
| Oct 6, 2020 - 8:02:28 AM | $199,900.00 | i9097 |
| Oct 6, 2020 - 8:02:28 AM | $199,800.00 | i21651 |
| Oct 6, 2020 - 8:02:26 AM | $199,700.00 | i9097 |
| Oct 6, 2020 - 8:02:26 AM | $199,600.00 | i21651 |
| Oct 6, 2020 - 8:02:24 AM | $199,500.00 | i9097 |
| Oct 6, 2020 - 8:02:24 AM | $199,400.00 | i21651 |
| Oct 6, 2020 - 8:02:22 AM | $199,300.00 | i9097 |
| Oct 6, 2020 - 8:02:22 AM | $199,200.00 | i21651 |
| Oct 6, 2020 - 8:02:20 AM | $199,100.00 | i9097 |
| Oct 6, 2020 - 8:02:20 AM | $199,000.00 | i21651 |
| Oct 6, 2020 - 8:02:17 AM | $198,900.00 | i9097 |
| Oct 6, 2020 - 8:02:17 AM | $198,800.00 | i21651 |
| Oct 6, 2020 - 8:02:15 AM | $198,700.00 | i9097 |
| Oct 6, 2020 - 8:02:15 AM | $198,600.00 | i21651 |
| Oct 6, 2020 - 8:02:13 AM | $198,500.00 | i9097 |
| Oct 6, 2020 - 8:02:13 AM | $198,400.00 | i21651 |
| Oct 6, 2020 - 8:02:11 AM | $198,300.00 | i9097 |
| Oct 6, 2020 - 8:02:11 AM | $198,200.00 | i21651 |
| Oct 6, 2020 - 8:02:08 AM | $198,100.00 | i9097 |
| Oct 6, 2020 - 8:02:08 AM | $198,000.00 | i21651 |
| Oct 6, 2020 - 8:02:05 AM | $197,900.00 | i9097 |
| Oct 6, 2020 - 8:02:05 AM | $197,800.00 | i21651 |
| Oct 6, 2020 - 8:02:02 AM | $197,700.00 | i9097 |
| Oct 6, 2020 - 8:02:02 AM | $197,600.00 | i21651 |
| Oct 6, 2020 - 8:02:00 AM | $197,500.00 | i9097 |
| Oct 6, 2020 - 8:02:00 AM | $197,400.00 | i21651 |
| Oct 6, 2020 - 8:01:58 AM | $197,300.00 | i9097 |
| Oct 6, 2020 - 8:01:58 AM | $197,200.00 | i21651 |
| Oct 6, 2020 - 8:01:56 AM | $197,100.00 | i9097 |
| Oct 6, 2020 - 8:01:56 AM | $197,000.00 | i21651 |
| Oct 6, 2020 - 8:01:54 AM | $196,900.00 | i9097 |
| Oct 6, 2020 - 8:01:54 AM | $196,800.00 | i21651 |
| Oct 6, 2020 - 8:01:51 AM | $196,700.00 | i9097 |
| Oct 6, 2020 - 8:01:51 AM | $196,600.00 | i21651 |
| Oct 6, 2020 - 8:01:48 AM | $196,500.00 | i9097 |
| Oct 6, 2020 - 8:01:48 AM | $196,400.00 | i21651 |
| Oct 6, 2020 - 8:01:46 AM | $196,300.00 | i9097 |
| Oct 6, 2020 - 8:01:46 AM | $196,200.00 | i21651 |
| Oct 6, 2020 - 8:01:43 AM | $196,100.00 | i9097 |
| Oct 6, 2020 - 8:01:43 AM | $196,000.00 | i21651 |
| Oct 6, 2020 - 8:01:41 AM | $195,900.00 | i9097 |
| Oct 6, 2020 - 8:01:41 AM | $195,800.00 | i21651 |
| Oct 6, 2020 - 8:01:39 AM | $195,700.00 | i9097 |
| Oct 6, 2020 - 8:01:39 AM | $195,600.00 | i21651 |
| Oct 6, 2020 - 8:01:37 AM | $195,500.00 | i9097 |
| Oct 6, 2020 - 8:01:37 AM | $195,400.00 | i21651 |
| Oct 6, 2020 - 8:01:35 AM | $195,300.00 | i9097 |
| Oct 6, 2020 - 8:01:35 AM | $195,200.00 | i21651 |
| Oct 6, 2020 - 8:01:32 AM | $195,100.00 | i9097 |
| Oct 6, 2020 - 8:01:32 AM | $195,000.00 | i21651 |
| Oct 6, 2020 - 8:01:30 AM | $194,900.00 | i9097 |
| Oct 6, 2020 - 8:01:30 AM | $194,800.00 | i21651 |
| Oct 6, 2020 - 8:01:27 AM | $194,700.00 | i9097 |
| Oct 6, 2020 - 8:01:27 AM | $194,600.00 | i21651 |
| Oct 6, 2020 - 8:01:25 AM | $194,500.00 | i9097 |
| Oct 6, 2020 - 8:01:25 AM | $194,400.00 | i21651 |
| Oct 6, 2020 - 8:01:23 AM | $194,300.00 | i9097 |
| Oct 6, 2020 - 8:01:23 AM | $194,200.00 | i21651 |
| Oct 6, 2020 - 8:01:20 AM | $194,100.00 | i9097 |
| Oct 6, 2020 - 8:01:20 AM | $194,000.00 | i21651 |
| Oct 6, 2020 - 8:01:18 AM | $193,900.00 | i9097 |
| Oct 6, 2020 - 8:01:18 AM | $193,800.00 | i21651 |
| Oct 6, 2020 - 8:01:16 AM | $193,700.00 | i9097 |
| Oct 6, 2020 - 8:01:16 AM | $193,600.00 | i21651 |
| Oct 6, 2020 - 8:01:13 AM | $193,500.00 | i9097 |
| Oct 6, 2020 - 8:01:13 AM | $193,400.00 | i21651 |
| Oct 6, 2020 - 8:01:11 AM | $193,300.00 | i9097 |
| Oct 6, 2020 - 8:01:11 AM | $193,200.00 | i21651 |
| Oct 6, 2020 - 8:01:09 AM | $193,100.00 | i9097 |
| Oct 6, 2020 - 8:01:09 AM | $193,000.00 | i21651 |
| Oct 6, 2020 - 8:01:07 AM | $192,900.00 | i9097 |
| Oct 6, 2020 - 8:01:07 AM | $192,800.00 | i21651 |
| Oct 6, 2020 - 8:01:04 AM | $192,700.00 | i9097 |
| Oct 6, 2020 - 8:01:04 AM | $192,600.00 | i21651 |
| Oct 6, 2020 - 8:01:02 AM | $192,500.00 | i9097 |
| Oct 6, 2020 - 8:01:02 AM | $192,400.00 | i21651 |
| Oct 6, 2020 - 8:00:59 AM | $192,300.00 | i9097 |
| Oct 6, 2020 - 8:00:59 AM | $192,200.00 | i21651 |
| Oct 6, 2020 - 8:00:57 AM | $192,100.00 | i9097 |
| Oct 6, 2020 - 8:00:57 AM | $192,000.00 | i21651 |
| Oct 6, 2020 - 8:00:54 AM | $191,900.00 | i9097 |
| Oct 6, 2020 - 8:00:54 AM | $191,800.00 | i21651 |
| Oct 6, 2020 - 8:00:49 AM | $191,700.00 | i9097 |
| Oct 6, 2020 - 8:00:49 AM | $191,600.00 | i21651 |
| Oct 6, 2020 - 8:00:47 AM | $191,500.00 | i9097 |
| Oct 6, 2020 - 8:00:47 AM | $191,400.00 | i21651 |
| Oct 6, 2020 - 8:00:45 AM | $191,300.00 | i9097 |
| Oct 6, 2020 - 8:00:45 AM | $191,200.00 | i21651 |
| Oct 6, 2020 - 8:00:42 AM | $191,100.00 | i9097 |
| Oct 6, 2020 - 8:00:42 AM | $191,000.00 | i21651 |
| Oct 6, 2020 - 8:00:39 AM | $190,900.00 | i9097 |
| Oct 6, 2020 - 8:00:39 AM | $190,800.00 | i21651 |
| Oct 6, 2020 - 8:00:37 AM | $190,700.00 | i9097 |
| Oct 6, 2020 - 8:00:37 AM | $190,600.00 | i21651 |
| Oct 6, 2020 - 8:00:34 AM | $190,500.00 | i9097 |
| Oct 6, 2020 - 8:00:34 AM | $190,400.00 | i21651 |
| Oct 6, 2020 - 8:00:32 AM | $190,300.00 | i9097 |
| Oct 6, 2020 - 8:00:32 AM | $190,200.00 | i21651 |
| Oct 6, 2020 - 8:00:30 AM | $190,100.00 | i9097 |
| Oct 6, 2020 - 8:00:30 AM | $190,000.00 | i21651 |
| Oct 6, 2020 - 8:00:27 AM | $189,900.00 | i9097 |
| Oct 6, 2020 - 8:00:27 AM | $189,800.00 | i21651 |
| Oct 6, 2020 - 8:00:24 AM | $189,700.00 | i9097 |
| Oct 6, 2020 - 8:00:24 AM | $189,600.00 | i21651 |
| Oct 6, 2020 - 8:00:17 AM | $189,500.00 | i9097 |
| Oct 6, 2020 - 8:00:17 AM | $189,400.00 | i21651 |
| Oct 6, 2020 - 8:00:15 AM | $189,300.00 | i9097 |
| Oct 6, 2020 - 8:00:15 AM | $189,200.00 | i21651 |
| Oct 6, 2020 - 8:00:11 AM | $189,100.00 | i9097 |
| Oct 6, 2020 - 8:00:11 AM | $189,000.00 | i21651 |
| Oct 6, 2020 - 8:00:09 AM | $188,900.00 | i9097 |
| Oct 6, 2020 - 8:00:09 AM | $188,800.00 | i21651 |
| Oct 6, 2020 - 8:00:06 AM | $188,700.00 | i9097 |
| Oct 6, 2020 - 8:00:06 AM | $188,600.00 | i21651 |
| Oct 6, 2020 - 8:00:02 AM | $188,500.00 | i9097 |
| Oct 6, 2020 - 8:00:02 AM | $188,400.00 | i21651 |
| Oct 6, 2020 - 7:59:59 AM | $188,300.00 | i9097 |
| Oct 6, 2020 - 7:59:59 AM | $188,200.00 | i21651 |
| Oct 6, 2020 - 7:59:55 AM | $188,100.00 | i9097 |
| Oct 6, 2020 - 7:59:55 AM | $188,000.00 | i21651 |
| Oct 6, 2020 - 7:59:52 AM | $187,900.00 | i9097 |
| Oct 6, 2020 - 7:59:52 AM | $187,800.00 | i21651 |
| Oct 6, 2020 - 7:59:48 AM | $187,700.00 | i9097 |
| Oct 6, 2020 - 7:59:48 AM | $187,600.00 | i21651 |
| Oct 6, 2020 - 7:59:44 AM | $187,500.00 | i9097 |
| Oct 6, 2020 - 7:59:44 AM | $187,400.00 | i21651 |
| Oct 6, 2020 - 7:59:39 AM | $187,300.00 | i9097 |
| Oct 6, 2020 - 7:59:39 AM | $187,200.00 | i21651 |
| Oct 6, 2020 - 7:59:34 AM | $187,100.00 | i9097 |
| Oct 6, 2020 - 7:59:34 AM | $187,000.00 | i21651 |
| Oct 6, 2020 - 7:59:32 AM | $186,900.00 | i9097 |
| Oct 6, 2020 - 7:59:32 AM | $186,800.00 | i21651 |
| Oct 6, 2020 - 7:59:30 AM | $186,700.00 | i9097 |
| Oct 6, 2020 - 7:59:30 AM | $186,600.00 | i21651 |
| Oct 6, 2020 - 7:59:24 AM | $186,500.00 | i9097 |
| Oct 6, 2020 - 7:59:24 AM | $186,400.00 | i21651 |
| Oct 6, 2020 - 7:59:21 AM | $186,300.00 | i9097 |
| Oct 6, 2020 - 7:59:21 AM | $186,200.00 | i21651 |
| Oct 6, 2020 - 7:59:18 AM | $186,100.00 | i9097 |
| Oct 6, 2020 - 7:59:18 AM | $186,000.00 | i21651 |
| Oct 6, 2020 - 7:59:15 AM | $185,900.00 | i9097 |
| Oct 6, 2020 - 7:59:15 AM | $185,800.00 | i21651 |
| Oct 6, 2020 - 7:59:13 AM | $185,700.00 | i9097 |
| Oct 6, 2020 - 7:59:13 AM | $185,600.00 | i21651 |
| Oct 6, 2020 - 7:59:10 AM | $185,500.00 | i9097 |
| Oct 6, 2020 - 7:59:10 AM | $185,400.00 | i21651 |
| Oct 6, 2020 - 7:59:07 AM | $185,300.00 | i9097 |
| Oct 6, 2020 - 7:59:07 AM | $185,200.00 | i21651 |
| Oct 6, 2020 - 7:59:05 AM | $185,100.00 | i9097 |
| Oct 6, 2020 - 7:59:05 AM | $185,000.00 | i21651 |
| Oct 6, 2020 - 7:59:03 AM | $184,900.00 | i9097 |
| Oct 6, 2020 - 7:59:03 AM | $184,800.00 | i21651 |
| Oct 6, 2020 - 7:59:01 AM | $184,700.00 | i9097 |
| Oct 6, 2020 - 7:59:01 AM | $184,600.00 | i21651 |
| Oct 6, 2020 - 7:58:58 AM | $184,500.00 | i9097 |
| Oct 6, 2020 - 7:58:58 AM | $184,400.00 | i21651 |
| Oct 6, 2020 - 7:58:55 AM | $184,300.00 | i9097 |
| Oct 6, 2020 - 7:58:55 AM | $184,200.00 | i21651 |
| Oct 6, 2020 - 7:58:53 AM | $184,100.00 | i9097 |
| Oct 6, 2020 - 7:58:53 AM | $184,000.00 | i21651 |
| Oct 6, 2020 - 7:58:51 AM | $183,900.00 | i9097 |
| Oct 6, 2020 - 7:58:51 AM | $183,800.00 | i21651 |
| Oct 6, 2020 - 7:58:48 AM | $183,700.00 | i9097 |
| Oct 6, 2020 - 7:58:48 AM | $183,600.00 | i21651 |
| Oct 6, 2020 - 7:58:46 AM | $183,500.00 | i9097 |
| Oct 6, 2020 - 7:58:46 AM | $183,400.00 | i21651 |
| Oct 6, 2020 - 7:58:43 AM | $183,300.00 | i9097 |
| Oct 6, 2020 - 7:58:43 AM | $183,200.00 | i21651 |
| Oct 6, 2020 - 7:58:40 AM | $183,100.00 | i9097 |
| Oct 6, 2020 - 7:58:40 AM | $183,000.00 | i21651 |
| Oct 6, 2020 - 7:58:37 AM | $182,900.00 | i9097 |
| Oct 6, 2020 - 7:58:37 AM | $182,800.00 | i21651 |
| Oct 6, 2020 - 7:58:34 AM | $182,700.00 | i9097 |
| Oct 6, 2020 - 7:58:34 AM | $182,600.00 | i21651 |
| Oct 6, 2020 - 7:58:31 AM | $182,500.00 | i9097 |
| Oct 6, 2020 - 7:58:31 AM | $182,400.00 | i21651 |
| Oct 6, 2020 - 7:58:29 AM | $182,300.00 | i9097 |
| Oct 6, 2020 - 7:58:29 AM | $182,200.00 | i21651 |
| Oct 6, 2020 - 7:58:26 AM | $182,100.00 | i9097 |
| Oct 6, 2020 - 7:58:26 AM | $182,000.00 | i21651 |
| Oct 6, 2020 - 7:58:23 AM | $181,900.00 | i9097 |
| Oct 6, 2020 - 7:58:23 AM | $181,800.00 | i21651 |
| Oct 6, 2020 - 7:58:21 AM | $181,700.00 | i9097 |
| Oct 6, 2020 - 7:58:21 AM | $181,600.00 | i21651 |
| Oct 6, 2020 - 7:58:19 AM | $181,500.00 | i9097 |
| Oct 6, 2020 - 7:58:19 AM | $181,400.00 | i21651 |
| Oct 6, 2020 - 7:58:16 AM | $181,300.00 | i9097 |
| Oct 6, 2020 - 7:58:16 AM | $181,200.00 | i21651 |
| Oct 6, 2020 - 7:58:13 AM | $181,100.00 | i9097 |
| Oct 6, 2020 - 7:58:13 AM | $181,000.00 | i21651 |
| Oct 6, 2020 - 7:58:06 AM | $180,900.00 | i9097 |
| Oct 6, 2020 - 7:58:06 AM | $180,800.00 | i21651 |
| Oct 6, 2020 - 7:58:04 AM | $180,700.00 | i9097 |
| Oct 6, 2020 - 7:58:04 AM | $180,600.00 | i21651 |
| Oct 6, 2020 - 7:58:01 AM | $180,500.00 | i9097 |
| Oct 6, 2020 - 7:58:01 AM | $180,400.00 | i21651 |
| Oct 5, 2020 - 6:14:42 PM | $180,300.00 | i9097 |
| Oct 5, 2020 - 6:14:42 PM | $180,200.00 | i21651 |
| Oct 5, 2020 - 6:14:39 PM | $180,100.00 | i9097 |
| Oct 5, 2020 - 6:14:39 PM | $180,000.00 | i21651 |
| Oct 5, 2020 - 6:14:36 PM | $179,900.00 | i9097 |
| Oct 5, 2020 - 6:14:36 PM | $179,800.00 | i21651 |
| Oct 5, 2020 - 6:14:32 PM | $179,700.00 | i9097 |
| Oct 5, 2020 - 6:14:32 PM | $179,600.00 | i21651 |
| Oct 5, 2020 - 6:14:29 PM | $179,500.00 | i9097 |
| Oct 5, 2020 - 6:14:29 PM | $179,400.00 | i21651 |
| Oct 5, 2020 - 6:14:26 PM | $179,300.00 | i9097 |
| Oct 5, 2020 - 6:14:26 PM | $179,200.00 | i21651 |
| Oct 5, 2020 - 6:14:06 PM | $179,100.00 | i9097 |
| Oct 5, 2020 - 6:14:06 PM | $179,000.00 | i21651 |
| Oct 5, 2020 - 6:14:01 PM | $178,900.00 | i9097 |
| Oct 5, 2020 - 6:14:01 PM | $178,800.00 | i21651 |
| Oct 5, 2020 - 6:13:57 PM | $178,700.00 | i9097 |
| Oct 5, 2020 - 6:13:57 PM | $178,600.00 | i21651 |
| Oct 5, 2020 - 6:13:54 PM | $178,500.00 | i9097 |
| Oct 5, 2020 - 6:13:54 PM | $178,400.00 | i21651 |
| Oct 5, 2020 - 6:13:51 PM | $178,300.00 | i9097 |
| Oct 5, 2020 - 6:13:51 PM | $178,200.00 | i21651 |
| Oct 5, 2020 - 6:13:45 PM | $178,100.00 | i9097 |
| Oct 5, 2020 - 6:13:45 PM | $178,000.00 | i21651 |
| Oct 5, 2020 - 6:13:42 PM | $177,900.00 | i9097 |
| Oct 5, 2020 - 6:13:42 PM | $177,800.00 | i21651 |
| Oct 5, 2020 - 6:13:38 PM | $177,700.00 | i9097 |
| Oct 5, 2020 - 6:13:38 PM | $177,600.00 | i21651 |
| Oct 5, 2020 - 6:13:34 PM | $177,500.00 | i9097 |
| Oct 5, 2020 - 6:13:34 PM | $177,400.00 | i21651 |
| Oct 5, 2020 - 6:13:30 PM | $177,300.00 | i9097 |
| Oct 5, 2020 - 6:13:30 PM | $177,200.00 | i21651 |
| Oct 5, 2020 - 6:13:27 PM | $177,100.00 | i9097 |
| Oct 5, 2020 - 6:13:27 PM | $177,000.00 | i21651 |
| Oct 5, 2020 - 6:13:25 PM | $176,900.00 | i9097 |
| Oct 5, 2020 - 6:13:25 PM | $176,800.00 | i21651 |
| Oct 5, 2020 - 6:13:17 PM | $176,700.00 | i9097 |
| Oct 5, 2020 - 6:13:17 PM | $176,600.00 | i21651 |
| Oct 5, 2020 - 6:13:13 PM | $176,500.00 | i9097 |
| Oct 5, 2020 - 6:13:13 PM | $176,400.00 | i21651 |
| Oct 5, 2020 - 6:13:09 PM | $176,300.00 | i9097 |
| Oct 5, 2020 - 6:13:09 PM | $176,200.00 | i21651 |
| Oct 5, 2020 - 6:13:05 PM | $176,100.00 | i9097 |
| Oct 5, 2020 - 6:13:05 PM | $176,000.00 | i21651 |
| Oct 5, 2020 - 6:13:02 PM | $175,900.00 | i9097 |
| Oct 5, 2020 - 6:13:02 PM | $175,800.00 | i21651 |
| Oct 5, 2020 - 6:12:59 PM | $175,700.00 | i9097 |
| Oct 5, 2020 - 6:12:59 PM | $175,600.00 | i21651 |
| Oct 5, 2020 - 6:12:56 PM | $175,500.00 | i9097 |
| Oct 5, 2020 - 6:12:56 PM | $175,400.00 | i21651 |
| Oct 5, 2020 - 6:12:53 PM | $175,300.00 | i9097 |
| Oct 5, 2020 - 6:12:53 PM | $175,200.00 | i21651 |
| Oct 5, 2020 - 6:12:51 PM | $175,100.00 | i9097 |
| Oct 5, 2020 - 6:12:51 PM | $175,000.00 | i21651 |
| Oct 5, 2020 - 6:12:48 PM | $174,900.00 | i9097 |
| Oct 5, 2020 - 6:12:48 PM | $174,800.00 | i21651 |
| Oct 5, 2020 - 6:12:44 PM | $174,700.00 | i9097 |
| Oct 5, 2020 - 6:12:44 PM | $174,600.00 | i21651 |
| Oct 5, 2020 - 6:12:40 PM | $174,500.00 | i9097 |
| Oct 5, 2020 - 6:12:40 PM | $174,400.00 | i21651 |
| Oct 5, 2020 - 6:12:37 PM | $174,300.00 | i9097 |
| Oct 5, 2020 - 6:12:37 PM | $174,200.00 | i21651 |
| Oct 5, 2020 - 6:12:34 PM | $174,100.00 | i9097 |
| Oct 5, 2020 - 6:12:34 PM | $174,000.00 | i21651 |
| Oct 5, 2020 - 6:12:31 PM | $173,900.00 | i9097 |
| Oct 5, 2020 - 6:12:31 PM | $173,800.00 | i21651 |
| Oct 5, 2020 - 6:12:28 PM | $173,700.00 | i9097 |
| Oct 5, 2020 - 6:12:28 PM | $173,600.00 | i21651 |
| Oct 5, 2020 - 6:12:22 PM | $173,500.00 | i9097 |
| Oct 5, 2020 - 6:12:22 PM | $173,400.00 | i21651 |
| Oct 5, 2020 - 6:12:19 PM | $173,300.00 | i9097 |
| Oct 5, 2020 - 6:12:19 PM | $173,200.00 | i21651 |
| Oct 5, 2020 - 6:12:15 PM | $173,100.00 | i9097 |
| Oct 5, 2020 - 6:12:15 PM | $173,000.00 | i21651 |
| Oct 5, 2020 - 6:12:12 PM | $172,900.00 | i9097 |
| Oct 5, 2020 - 6:12:12 PM | $172,800.00 | i21651 |
| Oct 5, 2020 - 6:12:07 PM | $172,700.00 | i9097 |
| Oct 5, 2020 - 6:12:07 PM | $172,600.00 | i21651 |
| Oct 5, 2020 - 6:12:05 PM | $172,500.00 | i9097 |
| Oct 5, 2020 - 6:12:05 PM | $172,400.00 | i21651 |
| Oct 5, 2020 - 6:12:01 PM | $172,300.00 | i9097 |
| Oct 5, 2020 - 6:12:01 PM | $172,200.00 | i21651 |
| Oct 5, 2020 - 6:11:51 PM | $172,100.00 | i9097 |
| Oct 5, 2020 - 6:11:51 PM | $172,000.00 | i21651 |
| Oct 5, 2020 - 6:11:49 PM | $171,900.00 | i9097 |
| Oct 5, 2020 - 6:11:49 PM | $171,800.00 | i21651 |
| Oct 5, 2020 - 6:11:45 PM | $171,700.00 | i9097 |
| Oct 5, 2020 - 6:11:45 PM | $171,600.00 | i21651 |
| Oct 5, 2020 - 6:11:42 PM | $171,500.00 | i9097 |
| Oct 5, 2020 - 6:11:42 PM | $171,400.00 | i21651 |
| Oct 5, 2020 - 6:11:38 PM | $171,300.00 | i9097 |
| Oct 5, 2020 - 6:11:38 PM | $171,200.00 | i21651 |
| Oct 5, 2020 - 6:11:35 PM | $171,100.00 | i9097 |
| Oct 5, 2020 - 6:11:35 PM | $171,000.00 | i21651 |
| Oct 5, 2020 - 6:11:13 PM | $170,900.00 | i9097 |
| Oct 5, 2020 - 6:11:13 PM | $170,800.00 | i21651 |
| Oct 5, 2020 - 6:11:10 PM | $170,700.00 | i9097 |
| Oct 5, 2020 - 6:11:10 PM | $170,600.00 | i21651 |
| Oct 5, 2020 - 6:11:06 PM | $170,500.00 | i9097 |
| Oct 5, 2020 - 6:11:06 PM | $170,400.00 | i21651 |
| Oct 5, 2020 - 5:54:29 PM | $170,300.00 | i9097 |
| Oct 5, 2020 - 5:54:29 PM | $170,200.00 | i21651 |
| Oct 5, 2020 - 4:52:41 PM | $170,100.00 | i9097 |
| Oct 5, 2020 - 4:52:10 PM | $170,000.00 | i21651 |
| Oct 5, 2020 - 4:52:11 PM | $170,000.00 | i9097 |
| Oct 5, 2020 - 4:14:17 PM | $160,100.00 | i21651 |
| Oct 5, 2020 - 4:14:10 PM | $160,000.00 | i21474 |
| Oct 5, 2020 - 4:14:11 PM | $160,000.00 | i21651 |
| Oct 5, 2020 - 4:14:07 PM | $159,900.00 | i21474 |
| Oct 5, 2020 - 4:14:07 PM | $159,800.00 | i21651 |
| Oct 5, 2020 - 4:14:04 PM | $159,700.00 | i21474 |
| Oct 5, 2020 - 4:14:04 PM | $159,600.00 | i21651 |
| Oct 5, 2020 - 4:14:01 PM | $159,500.00 | i21474 |
| Oct 5, 2020 - 4:14:01 PM | $159,400.00 | i21651 |
| Oct 5, 2020 - 4:13:32 PM | $159,300.00 | i21474 |
| Oct 5, 2020 - 4:13:32 PM | $159,200.00 | i21651 |
| Oct 5, 2020 - 4:13:29 PM | $159,100.00 | i21474 |
| Oct 5, 2020 - 4:13:29 PM | $159,000.00 | i21651 |
| Oct 5, 2020 - 4:13:26 PM | $158,900.00 | i21474 |
| Oct 5, 2020 - 4:13:26 PM | $158,800.00 | i21651 |
| Oct 5, 2020 - 4:13:22 PM | $158,700.00 | i21474 |
| Oct 5, 2020 - 4:13:22 PM | $158,600.00 | i21651 |
| Oct 5, 2020 - 4:13:07 PM | $158,500.00 | i21474 |
| Oct 5, 2020 - 4:13:07 PM | $158,400.00 | i21651 |
| Oct 5, 2020 - 4:13:04 PM | $158,300.00 | i21474 |
| Oct 5, 2020 - 4:13:04 PM | $158,200.00 | i21651 |
| Oct 5, 2020 - 4:12:59 PM | $158,100.00 | i21474 |
| Oct 5, 2020 - 4:12:59 PM | $158,000.00 | i21651 |
| Oct 5, 2020 - 4:12:56 PM | $157,900.00 | i21474 |
| Oct 5, 2020 - 4:12:56 PM | $157,800.00 | i21651 |
| Oct 5, 2020 - 4:12:54 PM | $157,700.00 | i21474 |
| Oct 5, 2020 - 4:12:54 PM | $157,600.00 | i21651 |
| Oct 5, 2020 - 4:12:50 PM | $157,500.00 | i21474 |
| Oct 5, 2020 - 4:12:50 PM | $157,400.00 | i21651 |
| Oct 5, 2020 - 4:12:46 PM | $157,300.00 | i21474 |
| Oct 5, 2020 - 4:12:46 PM | $157,200.00 | i21651 |
| Oct 5, 2020 - 4:12:43 PM | $157,100.00 | i21474 |
| Oct 5, 2020 - 4:12:43 PM | $157,000.00 | i21651 |
| Oct 5, 2020 - 4:12:41 PM | $156,900.00 | i21474 |
| Oct 5, 2020 - 4:12:41 PM | $156,800.00 | i21651 |
| Oct 5, 2020 - 4:12:37 PM | $156,700.00 | i21474 |
| Oct 5, 2020 - 4:12:37 PM | $156,600.00 | i21651 |
| Oct 5, 2020 - 4:12:34 PM | $156,500.00 | i21474 |
| Oct 5, 2020 - 4:12:34 PM | $156,400.00 | i21651 |
| Oct 5, 2020 - 4:12:31 PM | $156,300.00 | i21474 |
| Oct 5, 2020 - 4:12:31 PM | $156,200.00 | i21651 |
| Oct 5, 2020 - 4:12:27 PM | $156,100.00 | i21474 |
| Oct 5, 2020 - 4:12:27 PM | $156,000.00 | i21651 |
| Oct 5, 2020 - 4:12:24 PM | $155,900.00 | i21474 |
| Oct 5, 2020 - 4:12:24 PM | $155,800.00 | i21651 |
| Oct 5, 2020 - 4:12:20 PM | $155,700.00 | i21474 |
| Oct 5, 2020 - 4:12:20 PM | $155,600.00 | i21651 |
| Oct 5, 2020 - 4:12:17 PM | $155,500.00 | i21474 |
| Oct 5, 2020 - 4:12:17 PM | $155,400.00 | i21651 |
| Oct 5, 2020 - 4:12:11 PM | $155,300.00 | i21474 |
| Oct 5, 2020 - 4:12:11 PM | $155,200.00 | i21651 |
| Oct 5, 2020 - 4:12:02 PM | $155,100.00 | i21474 |
| Oct 5, 2020 - 4:12:02 PM | $155,000.00 | i21651 |
| Oct 5, 2020 - 4:11:59 PM | $154,900.00 | i21474 |
| Oct 5, 2020 - 4:11:59 PM | $154,800.00 | i21651 |
| Oct 5, 2020 - 4:11:56 PM | $154,700.00 | i21474 |
| Oct 5, 2020 - 4:11:56 PM | $154,600.00 | i21651 |
| Oct 5, 2020 - 4:11:54 PM | $154,500.00 | i21474 |
| Oct 5, 2020 - 4:11:54 PM | $154,400.00 | i21651 |
| Oct 5, 2020 - 4:11:51 PM | $154,300.00 | i21474 |
| Oct 5, 2020 - 4:11:51 PM | $154,200.00 | i21651 |
| Oct 5, 2020 - 4:11:48 PM | $154,100.00 | i21474 |
| Oct 5, 2020 - 4:11:48 PM | $154,000.00 | i21651 |
| Oct 5, 2020 - 4:11:40 PM | $153,900.00 | i21474 |
| Oct 5, 2020 - 4:11:40 PM | $153,800.00 | i21651 |
| Oct 5, 2020 - 4:11:37 PM | $153,700.00 | i21474 |
| Oct 5, 2020 - 4:11:37 PM | $153,600.00 | i21651 |
| Oct 5, 2020 - 4:11:34 PM | $153,500.00 | i21474 |
| Oct 5, 2020 - 4:11:34 PM | $153,400.00 | i21651 |
| Oct 5, 2020 - 4:11:31 PM | $153,300.00 | i21474 |
| Oct 5, 2020 - 4:11:31 PM | $153,200.00 | i21651 |
| Oct 5, 2020 - 4:11:28 PM | $153,100.00 | i21474 |
| Oct 5, 2020 - 4:11:28 PM | $153,000.00 | i21651 |
| Oct 5, 2020 - 4:11:24 PM | $152,900.00 | i21474 |
| Oct 5, 2020 - 4:11:24 PM | $152,800.00 | i21651 |
| Oct 5, 2020 - 4:11:19 PM | $152,700.00 | i21474 |
| Oct 5, 2020 - 4:11:19 PM | $152,600.00 | i21651 |
| Oct 5, 2020 - 4:11:15 PM | $152,500.00 | i21474 |
| Oct 5, 2020 - 4:11:15 PM | $152,400.00 | i21651 |
| Oct 5, 2020 - 4:11:12 PM | $152,300.00 | i21474 |
| Oct 5, 2020 - 4:11:12 PM | $152,200.00 | i21651 |
| Oct 5, 2020 - 4:11:09 PM | $152,100.00 | i21474 |
| Oct 5, 2020 - 4:11:09 PM | $152,000.00 | i21651 |
| Oct 5, 2020 - 4:11:06 PM | $151,900.00 | i21474 |
| Oct 5, 2020 - 4:11:06 PM | $151,800.00 | i21651 |
| Oct 5, 2020 - 4:11:03 PM | $151,700.00 | i21474 |
| Oct 5, 2020 - 4:11:03 PM | $151,600.00 | i21651 |
| Oct 5, 2020 - 4:10:56 PM | $151,500.00 | i21474 |
| Oct 5, 2020 - 4:10:56 PM | $151,400.00 | i21651 |
| Oct 5, 2020 - 4:10:52 PM | $151,300.00 | i21474 |
| Oct 5, 2020 - 4:10:52 PM | $151,200.00 | i21651 |
| Oct 5, 2020 - 4:10:49 PM | $151,100.00 | i21474 |
| Oct 5, 2020 - 4:10:49 PM | $151,000.00 | i21651 |
| Oct 5, 2020 - 4:10:46 PM | $150,900.00 | i21474 |
| Oct 5, 2020 - 4:10:46 PM | $150,800.00 | i21651 |
| Oct 5, 2020 - 4:10:43 PM | $150,700.00 | i21474 |
| Oct 5, 2020 - 4:10:43 PM | $150,600.00 | i21651 |
| Oct 5, 2020 - 4:10:41 PM | $150,500.00 | i21474 |
| Oct 5, 2020 - 4:10:41 PM | $150,400.00 | i21651 |
| Oct 5, 2020 - 4:10:36 PM | $150,300.00 | i21474 |
| Oct 5, 2020 - 4:10:36 PM | $150,200.00 | i21651 |
| Oct 5, 2020 - 1:30:38 PM | $150,100.00 | i21474 |
| Oct 5, 2020 - 1:30:09 PM | $150,000.00 | i9097 |
| Oct 5, 2020 - 1:30:10 PM | $150,000.00 | i21474 |
| Oct 5, 2020 - 12:54:04 PM | $140,100.00 | i9097 |
| Oct 5, 2020 - 12:54:04 PM | $140,000.00 | i21474 |
| Oct 5, 2020 - 9:51:35 AM | $130,100.00 | i21474 |
| Oct 5, 2020 - 9:51:35 AM | $130,000.00 | i9097 |
| Oct 5, 2020 - 8:46:40 AM | $127,400.00 | i9097 |
| Oct 5, 2020 - 8:46:40 AM | $127,300.00 | i21646 |
| Oct 1, 2020 - 2:44:17 PM | $127,200.00 | i9097 |
| Oct 1, 2020 - 2:44:17 PM | $127,100.00 | i16974 |
| Oct 1, 2020 - 2:44:00 PM | $126,300.00 | i9097 |
| Oct 1, 2020 - 2:44:00 PM | $126,200.00 | i16974 |
| Sep 29, 2020 - 4:05:04 PM | $121,100.00 | i9097 |
| Sep 29, 2020 - 4:05:04 PM | $121,000.00 | i21558 |
| Sep 26, 2020 - 4:09:15 PM | $120,100.00 | i21558 |
| Sep 26, 2020 - 4:09:15 PM | $120,000.00 | i9097 |
| Sep 25, 2020 - 3:51:27 PM | $117,600.00 | i9097 |
| Sep 25, 2020 - 3:51:27 PM | $117,500.00 | i16974 |
| Sep 25, 2020 - 6:43:56 AM | $103,100.00 | i16974 |
| Sep 25, 2020 - 6:43:56 AM | $103,000.00 | i21558 |
| Sep 25, 2020 - 6:28:03 AM | $100,200.00 | i16974 |
| Sep 24, 2020 - 4:52:28 PM | $100,100.00 | i21558 |
| Sep 24, 2020 - 4:52:10 PM | $100,000.00 | i16974 |
| Sep 24, 2020 - 4:52:11 PM | $100,000.00 | i21558 |
| Sep 24, 2020 - 4:50:10 PM | $90,100.00 | i16974 |
| Sep 24, 2020 - 4:50:10 PM | $90,000.00 | i21558 |
| Sep 24, 2020 - 4:07:24 PM | $75,100.00 | i16974 |
| Sep 24, 2020 - 4:07:24 PM | $75,000.00 | i21558 |
| Sep 20, 2020 - 2:04:07 PM | $70,100.00 | i21558 |
| Sep 20, 2020 - 2:04:07 PM | $70,000.00 | i9097 |
| Sep 20, 2020 - 5:15:49 AM | $60,500.00 | i9097 |
| Sep 20, 2020 - 5:15:49 AM | $60,400.00 | i20514 |
| Sep 19, 2020 - 7:21:33 AM | $60,300.00 | i9097 |
| Sep 19, 2020 - 7:21:33 AM | $60,200.00 | i20514 |
| Sep 17, 2020 - 9:18:11 AM | $60,100.00 | i9097 |
| Sep 17, 2020 - 9:18:11 AM | $60,000.00 | i18080 |
| Sep 17, 2020 - 8:08:21 AM | $50,100.00 | i18080 |
| Sep 17, 2020 - 8:07:59 AM | $50,000.00 | i9097 |
| Sep 17, 2020 - 8:08:00 AM | $50,000.00 | i18080 |
| Sep 17, 2020 - 6:19:33 AM | $40,300.00 | i9097 |
| Sep 17, 2020 - 6:19:33 AM | $40,200.00 | i20031 |
| Sep 17, 2020 - 6:18:24 AM | $40,100.00 | i9097 |
| Sep 17, 2020 - 6:18:24 AM | $40,000.00 | i20031 |
| Sep 17, 2020 - 6:15:08 AM | $36,300.00 | i9097 |
| Sep 17, 2020 - 6:15:08 AM | $36,200.00 | i20031 |
| Sep 17, 2020 - 6:14:19 AM | $36,100.00 | i9097 |
| Sep 17, 2020 - 6:14:19 AM | $36,000.00 | i20031 |
| Sep 16, 2020 - 3:05:20 PM | $35,100.00 | i9097 |
| Sep 16, 2020 - 3:05:20 PM | $35,000.00 | i20031 |
| Sep 16, 2020 - 3:01:41 PM | $30,100.00 | i9097 |
| Sep 16, 2020 - 3:01:41 PM | $30,000.00 | i20031 |
| Sep 16, 2020 - 10:31:11 AM | $20,600.00 | i9097 |
| Sep 16, 2020 - 10:31:11 AM | $20,500.00 | i8746 |
| Sep 16, 2020 - 10:17:22 AM | $20,100.00 | i8746 |
| Sep 16, 2020 - 10:17:22 AM | $20,000.00 | i9097 |
| Sep 16, 2020 - 10:16:39 AM | $14,600.00 | i9097 |
| Sep 16, 2020 - 10:16:39 AM | $14,500.00 | i8746 |
| Sep 16, 2020 - 10:15:49 AM | $12,250.00 | i9097 |
| Sep 16, 2020 - 10:15:49 AM | $12,150.00 | i8746 |
| Sep 16, 2020 - 10:15:48 AM | $12,050.00 | i9097 |
| Sep 16, 2020 - 10:15:48 AM | $11,950.00 | i8746 |
| Sep 16, 2020 - 10:15:45 AM | $11,850.00 | i9097 |
| Sep 16, 2020 - 10:15:45 AM | $11,750.00 | i8746 |
| Sep 16, 2020 - 10:15:44 AM | $11,650.00 | i9097 |
| Sep 16, 2020 - 10:15:44 AM | $11,550.00 | i8746 |
| Sep 16, 2020 - 10:15:43 AM | $11,450.00 | i9097 |
| Sep 16, 2020 - 10:15:43 AM | $11,350.00 | i8746 |
| Sep 16, 2020 - 10:15:41 AM | $11,250.00 | i9097 |
| Sep 16, 2020 - 10:15:41 AM | $11,150.00 | i8746 |
| Sep 16, 2020 - 10:15:40 AM | $11,050.00 | i9097 |
| Sep 16, 2020 - 10:15:40 AM | $10,950.00 | i8746 |
| Sep 16, 2020 - 10:15:39 AM | $10,850.00 | i9097 |
| Sep 16, 2020 - 10:15:39 AM | $10,750.00 | i8746 |
| Sep 16, 2020 - 10:15:37 AM | $10,650.00 | i9097 |
| Sep 16, 2020 - 10:15:37 AM | $10,550.00 | i8746 |
| Sep 16, 2020 - 10:15:33 AM | $10,450.00 | i9097 |
| Sep 16, 2020 - 10:15:33 AM | $10,350.00 | i8746 |
| Sep 16, 2020 - 10:15:28 AM | $10,250.00 | i9097 |
| Sep 16, 2020 - 10:15:28 AM | $10,150.00 | i8746 |
| Sep 16, 2020 - 9:58:13 AM | $10,050.00 | i9097 |
| Sep 16, 2020 - 9:58:13 AM | $10,000.00 | i17379 |
| Sep 16, 2020 - 9:13:44 AM | $9,050.00 | i17379 |
| Sep 16, 2020 - 9:13:44 AM | $9,000.00 | i8417 |
| Sep 16, 2020 - 8:15:24 AM | $7,550.00 | i17379 |
| Sep 16, 2020 - 8:15:21 AM | $7,500.00 | i19556 |
| Sep 16, 2020 - 8:15:22 AM | $7,500.00 | i17379 |
| Sep 16, 2020 - 8:15:18 AM | $7,450.00 | i19556 |
| Sep 16, 2020 - 8:15:18 AM | $7,400.00 | i17379 |
| Sep 16, 2020 - 8:15:16 AM | $7,350.00 | i19556 |
| Sep 16, 2020 - 8:15:16 AM | $7,300.00 | i17379 |
| Sep 16, 2020 - 8:15:13 AM | $7,250.00 | i19556 |
| Sep 16, 2020 - 8:15:13 AM | $7,200.00 | i17379 |
| Sep 16, 2020 - 8:15:09 AM | $7,150.00 | i19556 |
| Sep 16, 2020 - 8:15:09 AM | $7,100.00 | i17379 |
| Sep 16, 2020 - 8:15:04 AM | $7,050.00 | i19556 |
| Sep 16, 2020 - 8:15:04 AM | $7,000.00 | i17379 |
| Sep 16, 2020 - 8:15:01 AM | $6,950.00 | i19556 |
| Sep 16, 2020 - 8:15:01 AM | $6,900.00 | i17379 |
| Sep 16, 2020 - 8:14:58 AM | $6,850.00 | i19556 |
| Sep 16, 2020 - 8:14:58 AM | $6,800.00 | i17379 |
| Sep 16, 2020 - 8:14:55 AM | $6,750.00 | i19556 |
| Sep 16, 2020 - 8:14:55 AM | $6,700.00 | i17379 |
| Sep 16, 2020 - 8:14:50 AM | $6,650.00 | i19556 |
| Sep 16, 2020 - 8:14:50 AM | $6,600.00 | i17379 |
| Sep 16, 2020 - 8:14:47 AM | $6,550.00 | i19556 |
| Sep 16, 2020 - 8:14:47 AM | $6,500.00 | i17379 |
| Sep 16, 2020 - 8:14:44 AM | $6,450.00 | i19556 |
| Sep 16, 2020 - 8:14:44 AM | $6,400.00 | i17379 |
| Sep 16, 2020 - 8:14:41 AM | $6,350.00 | i19556 |
| Sep 16, 2020 - 8:14:41 AM | $6,300.00 | i17379 |
| Sep 16, 2020 - 8:14:37 AM | $6,250.00 | i19556 |
| Sep 16, 2020 - 8:14:37 AM | $6,200.00 | i17379 |
| Sep 16, 2020 - 8:14:35 AM | $6,150.00 | i19556 |
| Sep 16, 2020 - 8:14:35 AM | $6,100.00 | i17379 |
| Sep 16, 2020 - 8:14:30 AM | $6,050.00 | i19556 |
| Sep 16, 2020 - 8:14:30 AM | $6,000.00 | i17379 |
| Sep 16, 2020 - 8:14:27 AM | $5,950.00 | i19556 |
| Sep 16, 2020 - 8:14:27 AM | $5,900.00 | i17379 |
| Sep 16, 2020 - 8:14:24 AM | $5,850.00 | i19556 |
| Sep 16, 2020 - 8:14:24 AM | $5,800.00 | i17379 |
| Sep 16, 2020 - 8:14:20 AM | $5,750.00 | i19556 |
| Sep 16, 2020 - 8:14:20 AM | $5,700.00 | i17379 |
| Sep 16, 2020 - 8:14:16 AM | $5,650.00 | i19556 |
| Sep 16, 2020 - 8:14:16 AM | $5,600.00 | i17379 |
| Sep 16, 2020 - 8:14:12 AM | $5,550.00 | i19556 |
| Sep 16, 2020 - 8:14:12 AM | $5,500.00 | i17379 |
| Sep 16, 2020 - 8:14:09 AM | $5,450.00 | i19556 |
| Sep 16, 2020 - 8:14:09 AM | $5,400.00 | i17379 |
| Sep 16, 2020 - 8:14:05 AM | $5,350.00 | i19556 |
| Sep 16, 2020 - 8:14:05 AM | $5,300.00 | i17379 |
| Sep 16, 2020 - 8:14:01 AM | $5,250.00 | i19556 |
| Sep 16, 2020 - 8:14:01 AM | $5,200.00 | i17379 |
| Sep 16, 2020 - 8:13:52 AM | $5,150.00 | i19556 |
| Sep 16, 2020 - 8:13:52 AM | $5,100.00 | i17379 |
| Sep 16, 2020 - 3:53:47 AM | $5,050.00 | i19556 |
| Sep 16, 2020 - 3:53:29 AM | $5,000.00 | i20031 |
| Sep 16, 2020 - 3:53:30 AM | $5,000.00 | i19556 |
| Sep 15, 2020 - 3:41:01 PM | $2,050.00 | i20031 |
| Sep 15, 2020 - 3:41:01 PM | $2,000.00 | i20514 |
| Sep 15, 2020 - 10:14:04 AM | $510.00 | i20514 |
| Sep 15, 2020 - 10:13:50 AM | $500.00 | i10377 |
| Sep 15, 2020 - 10:13:51 AM | $500.00 | i20514 |
| Sep 15, 2020 - 9:02:57 AM | $1.00 | i10377 |